The next time you're cooking up rice for the family meal, why not leave out the salt, cook up a little extra and use it to create this tasty rice dish for your baby?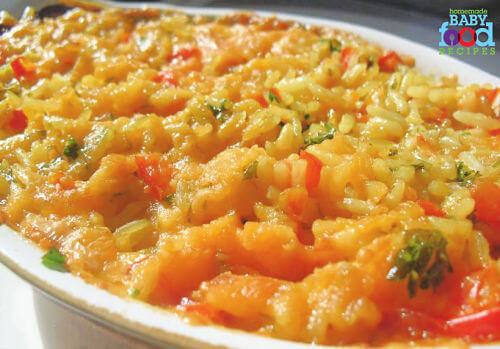 Suffused with the sweetness of red bell pepper and made eye-catchingly colourful by its rainbow of healthy ingredients, this dish provides…
B vitamins, iron and fibre from the rice (if you use brown rice)*
bone-building calcium from the meat and cheese
vitamin A from the red pepper
folate, vitamins and iron from the parsley
*We added a little turmeric to the water when cooking our rice, which gave it a lovely yellow hue!
One of the best things about this recipe is that it's very easy to assemble and cook, and turns a simple ingredient like rice into something special.
Ideal for babies from around 8 months onwards coping well with texture, this recipe can be served as a side dish or main meal. You can also try adding strips of cooked meat or tofu for extra protein.
To Make Rainbow Rice for Baby You Will Need…
1 cup cooked rice
1/4 cup milk (you can use formula, breast milk or whole milk)
4 tbsp grated Cheddar cheese
2 tbsp finely chopped red bell pepper
1 tbsp chopped fresh parsley
Preheat the oven to 350 deg F.
Grease a small oven proof dish.
Stir together all the ingredients except the milk and place in the dish.
Pour in the milk, then place in the oven and cook for around 20 to 30 mins, until the cheese is golden and the pepper is tender.
Cool to a safe temperature and serve.