Brown rice is a nutritious whole grain – but it's not the easiest food for baby to pick up with his fingers!
If your little one is at the stage where he really only wants to eat things he can feed himself – or if you're doing Baby Led Weaning and those are the only types of foods you want to offer – then you COULD overcook his rice so that the soft grains will 'clump' together, making them easier to pick up.
Or… you could make him THIS yummy creation, which we call 'Rice By the Slice'!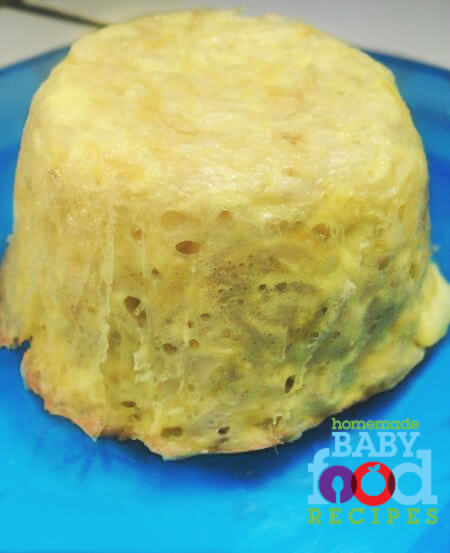 It's a snap to put together, but it's a dish you can serve hot or cold, adapt to suit YOUR tiny diner (see the variations notes at the end of the recipe) and allows him to happily eat his grains with his fingers!
To Make Rice by the Slice for Your Baby You Will Need…
2/3 cup cooked brown rice
olive oil
1 tbsp onion, chopped (optional)
1 garlic clove, crushed (optional)
2 heaped tbsp grated Cheddar cheese
1 egg, lightly beaten
Preheat the oven to 375 deg F.
Heat a little olive oil in a frying pan and add the onion. Cook for a minute or two until beginning to soften, then add the garlic and cook for another minute (NOTE: The onion and garlic are NOT essential to this recipe – they simply give the final dish a more robust flavour. If you don't feel your baby is ready yet for onion or garlic, then you can leave them out).
Transfer the cooked onion and garlic to a small bowl.
Add the cooked rice, egg and cheese, then mix everything together with a wooden spoon.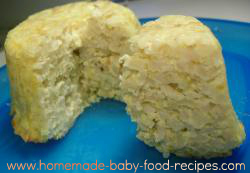 Press the mixture into a small, oven-proof dish. We used an 8 inch ramekin, which we (rather lazily) lined with greaseproof foil to avoid washing up afterwards! If you don't use the foil, be sure to grease the dish first.
Place in the oven and bake for around 20 to 25 minutes, until the mixture is set and has golden spots on top.
Allow to cool in the dish for about 10 minutes, then turn out on to a plate.
Slice or cut into cubes for baby!
Variations:
Serve hot or cold! This is a great food for taking out and about – just be sure to keep it thoroughly chilled.
Add your baby's favourite herbs.
Add slivers of cooked meat or extra cooked veggies to the bowl when mixing the ingredients together, to make this more of a complete meal.
Try different cheeses for subtle variations in flavour.
Hope your baby enjoys this simple dish!
Learn more about Baby Led Weaning
Read our Guide to Introducing Finger Foods
Pin It