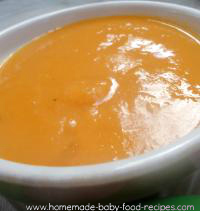 The gorgeous orange colour of this creamy and delicious soup is a real indication of just how nutritious it is for your baby!
Packed with beta-carotene from the sweet potatoes and lycopenes from the tomatoes, this dish also provides your baby with an array of health-promoting vitamins and minerals in a form that's easy for HIM to eat… and for YOU to prepare!
This recipe is ideal for later in baby's first year (from around 9 to 10 months). Although you could introduce it earlier if you wish, some parents find that tomatoes tend to trigger mild skin reactions, such as diaper rash or rashes around baby's mouth. See our page all about introducing tomatoes for more information.
Some tomato soup recipes, we find, can be too tart for baby to enjoy – but this one, which tempers the acidity of the tomatoes with the sweetness of sweet potato, has always been popular with our little ones! We hope YOUR little one enjoys it too!
To Make Silky Sweet Potato and Tomato Soup You Will Need…
2 tbsp olive oil
1 small onion, peeled and chopped
1 apple, peeled, cored and chopped
1 medium sweet potato, peeled and cubed
6 fl oz (3/4 cup) low sodium or homemade beef stock
2 big, ripe tomatoes, peeled (here's how), seeds removed and chopped
generous pinch of freshly ground black pepper
pinch cinnamon
Heat the olive oil in a medium saucepan and add the onion.
Cook over a low heat for around 5 minutes, until tender.
Add the apple and sweet potato cubes and cook for another 5 minutes.
Pour in the stock and add the tomatoes. Bring to the boil.
Reduce the heat, cover and simmer gently until the sweet potatoes are tender.
Add the cinnamon, then cook for 3 more mins.
For a smooth soup: Transfer the mixture to a food processor and puree, or use a hand blender to puree the soup right in the pot!
For a chunkier texture: Transfer half the mixture to a blender, puree, then stir back into the rest of the soup.
Find more sweet potato baby food recipes
Pin It