I don't know HOW we managed to get a photo of one of these scones! Their lovely spicy smell as they were cooking announced to the kids that they'd soon be ready and there was quite a queue by the oven as I lifted them out! But I managed to get a quick shot before they all disappeared and I hope your little ones enjoy these scones as much as ours!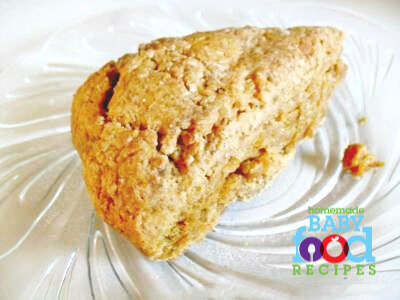 This recipe is ideal for older babies and toddlers who are biting and chewing well. They are very slightly crunchy on the outside, but soft on the inside, with a texture that's a little dense (you can make a lighter texture by INcreasing the amount of white flour you use and DEcreasing the whole wheat – but we like these scones just the way they turn out following the recipe as it is).
The scones contain lots of beta carotene from the pumpkin, plus the goodness of whole wheat flour. We HAVE used some sugar in our recipe, but you can reduce the amount if you prefer, or save the scones for an occasional treat.
This recipe makes 10 large scones.
To Make Spiced Pumpkin Scones You Will Need…
6 oz (1 1/2 cups) whole wheat flour
3 oz (3/4 cup) all purpose (plain) flour
4 oz (1/2 cup) butter
1 tbsp baking powder
1/2 tsp salt
1 tsp cinnamon
1/4 tsp ground ginger
pinch ground allspice
pinch ground nutmeg
4 oz (1/2 cup) dark brown sugar
4 fl oz (1/2 cup) whole milk or soy milk
6 oz (3/4 cup) pureed pumpkin (use canned if you can't get hold of fresh)
Preheat the oven to 375 deg F (180 deg C).
In a large bowl, combine the two types of flour, the baking powder and the salt with the spices and sugar.
Add the butter and rub it into the flour with the fingertips, until the mixture resembles bread crumbs.
In a small bowl, stir the milk into the pureed pumpkin until thoroughly combined.
Stir the pumpkin mixture into the flour mixture until the ingredients are just mixed.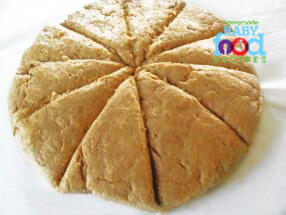 Gather the dough together, turn out on to a floured board and shape into a circle.
Cut into wedges (as shown on the right).
Place the wedges separately on a greased baking sheet and bake for 20 to 30 mins until golden.
Cool and serve warm – delicious with a cream cheese spread!
More pumpkin baby food recipes
Introducing baby finger foods
Pin It