These yummy, sugar free cookies make the perfect treat for babies from around 12 months of age. They are firm on the outside, 'squidgy' on the inside and ideal for tots who can bite and chew well. (Please note that they are not suitable for younger babies who are new to finger foods).
Your older children (and you!) will enjoy these tasty cookies too!
Here's what you'll need… 
2 oz (1/2 cup) all purpose flour
2 oz (1/2 cup) rolled oats
2 oz (1/4 cup) sultanas/golden raisins
1 tsp nutmeg
1 tsp cinnamon
1/2 tsp baking soda (bicarbonate of soda)
pinch salt
2 fl oz (1/4 cup) vegetable oil
4 oz (1/2 cup) applesauce (try using our sugar free applesauce recipe)
1 egg (large)
Pre heat the oven to 375 deg F (180 deg C).
Mix the dry ingredients together bowl and beat the wet ingredients together in another.
Combine the wet and dry ingredients. Then, using a dessert spoon, spoon the mixture into individual 'blobs' on to a greased baking sheet (we made 8).
Bake for around 10 mins, until firm.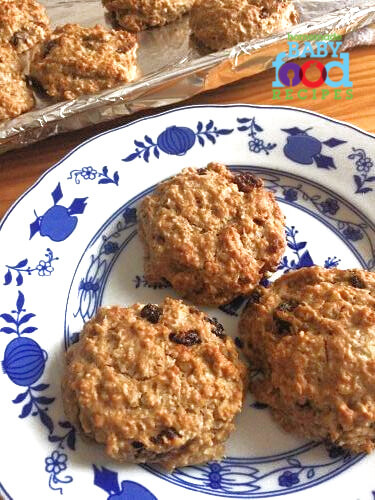 Pin It