Banana muffins – totally nutritious and sugar free… they almost sound too good to be true, don't they? Yet these muffins are absolutely delicious, have a moist, dense texture, and are sweetened only by the natural sugars in the fruit they contain.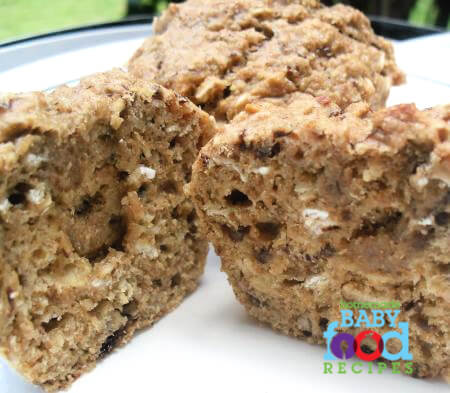 An ideal finger food – and perfect for baby led weaning – these muffins are also made with healthy whole grains and are completely egg free!
To Make Sugar Free Banana Muffins, You Will Need…
4 oz (1 cup) rolled oats/porridge oats
8 oz (2 cups) whole wheat flour flour
4 oz (1/2 cup) raisin puree (made by soaking or simmering raisins in water then pureeing)
1 1/2 tsp baking powder
1/2 tsp baking soda (bicarbonate of soda)
pinch nutmeg
pinch cinnamon
drop or two of vanilla
4 fl oz (1/2 cup) applesauce
3 ripe bananas, mashed well
8 fl oz (1 cup) water
Preheat the oven to 325 deg F (170 deg C).
Grease a 12 hole muffin tin.
Mix all the ingredients together in a bowl, then divide into the 12 holes.
Bake for around 20 to 25 mins until firm.
The muffins may be frozen, but you'll find they come out better if you freeze the batter before you cook it, instead of freezing the cooked muffins.
Enjoy.
Learn more about baby led weaning
A guide to introducing finger foods
More banana baby food ideas
We love…
…these Reusable Silicone Baking Cups
for making our muffins. We've NEVER had them stick – they pop right out and the cups take two seconds to clean… better than scrubbing a muffin tin!
Also available in the UK
Pin It