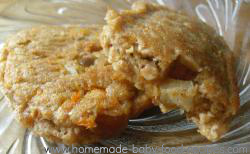 Sweet potato… apple… warm hints of nutmeg and cinnamon… without a doubt, this is a fab fall recipe and just perfect for babies who are happy feeding themselves!
One of the best things about these pancakes is the fact that they are sugar free. A little sweetness is provided by the apple and sweet potato and – as we mention on the recipe page – serving the pancakes with a pureed banana dip makes them sweeter still!
What's more, they combine the goodness of wheat germ, rolled oats and whole wheat flour – a mixture of healthy whole grains that your baby will find delicious and that are good for him too!
You can find our new recipe for Sweet Potato and Apple pancakes here – and please do leave your comments either here or on the recipe page itself to let us know how much your little one enjoyed them.
Pin It