It may be getting rather warm here in the Bahamas as we move into summer, but we still enjoy a nice bowl of soup. Particularly if it's THIS soup… an easy-to-make sweet potato creation with a Caribbean twist, that our little ones adore!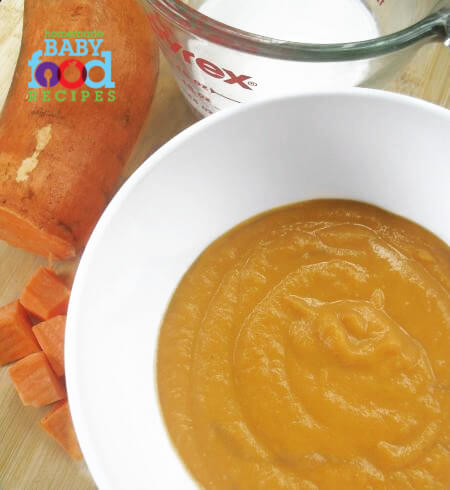 The coconut milk in this recipe provides not just a delicious flavour, but also a wonderful creaminess. The soup has a gorgeous, velvety texture your little one will love and is ideal for babies from around 6 to 7 months who have been separately introduced to all the ingredients beforehand.
If your baby likes to feed himself from a spoon and you're worried that a soup like this might be a bit too runny (and frustrating) for him to manage, then cut down on the amount of chicken stock you use so the dish is closer to a puree than a soup.
To Make Sweet Potato and Coconut Soup for Baby You Will Need…
3 tsp olive oil or coconut oil
1/2 small onion, sliced
1 garlic clove, chopped
2 small sweet potatoes, peeled and diced
1 level tsp fresh ginger, finely chopped*
1/4 tsp freshly ground black pepper (optional)
4 fl oz (1/2 cup) low sodium or homemade chicken stock
8 fl oz (1 cup) unsweetened coconut milk
*Ginger is a great aid to digestion. The amount used in this recipe is enough to add a little warmth without being too spicy. Use more if your baby likes bolder flavours and is happy for you to turn up the heat!
Pour the oil into a medium saucepan and heat.
Add the onion and saute for a couple of minutes until beginning to soften.
Add the garlic and sweet potato cubes. Cook gently for around 8 to 10 minutes, stirring often, until the sweet potato begins to soften and turn a little brown – this step gives it a rich, 'roasted' flavour that really enhances the soup.
Pour in the chicken stock and coconut milk, then stir in the ginger and freshly ground black pepper (if using).
Bring to the boil, then immediately lower the heat and simmer gently, covered, until the sweet potato is completely tender (around 10 minutes).
Puree in the pot with a hand blender until smooth, cool to a safe serving temperature, and share with baby.
Refrigerate any leftovers for up to 48 hours or freeze for up to one month.
Notes: One of our children loves this soup with a big pinch of allspice stirred in. And we like to add a little salt and crushed red pepper for the adults!
More sweet potato baby food recipes
Learn more about using coconut in your baby food recipes
Pin It