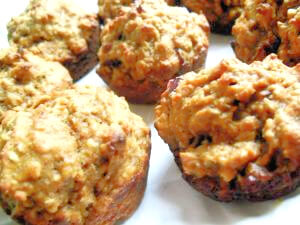 What do you get when you combine the whole grain goodness of rolled oats and whole wheat flour with the delicious sweetness of sweet potatoes and dried fruit?
These super Sweet Potato Muffins – THAT'S what!
Our children absolutely adore these muffins which are wonderfully tasty and really pack a punch in terms of nutrition! They make a good finger food for older babies who are accustomed to biting and chewing and are ideal for baby led weaners.
They also make a perfect snack to pack for days when you're out and about with your baby (in fact, they're not just great for children – the adults in our house love them too, so everyone is happy!).
Give our simple recipe a try and please do let us know how much your baby (and you!) enjoy them…
Pin It