These little turkey meatloaves are packed with flavour, delicious hot OR cold, full of wholesome goodness and a super baby finger food. They're ideal for little ones who are biting and chewing well (from around 10 months+).
Making them in muffin/cupcake cases may look a little odd, but it provides perfectly sized and easy-to-hold little meatloaves, just right for tiny diners!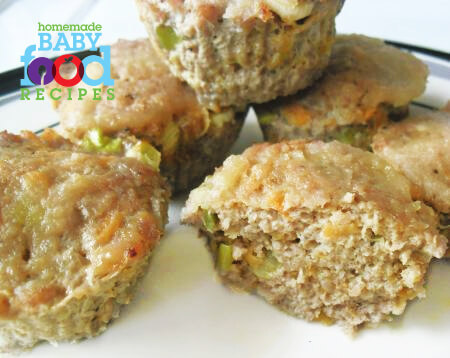 To Make Teeny Turkey Meatloaves with Applesauce You Will Need
12 oz (3/4 lb) ground turkey (minced turkey)
fresh bread crumbs made from 1 slice of whole wheat bread (here's how to make them)
1/2 small sweet potato, peeled and grated
2 green onions/scallions/spring onions, sliced very thinly
big pinch freshly ground black pepper (optional)
1 tsp fresh ginger, grated
1/2 tsp allspice
3 tbsp applesauce
Preheat the oven to 375 deg F (180 deg C).
Grease a 6 hole muffin tin (or – better still – use silicone cupcake cases as per our note below).
Combine the ground turkey, bread crumbs, sweet potato, onions, black pepper (if using) ginger and allspice with 2 tbsp of the applesauce and mix well.
Divide the mixture between the six holes/cases and flatten.
Brush the rest of the applesauce on the top of each meatloaf.
Place in the oven and bake for around 20 mins, until cooked through.
Cool, remove from the pans and serve with extra applesauce for dipping!
If you want to make these for the whole family, simply separate baby's portion and add some salt to the adults' portion if required.
We love…
…these Reusable Silicone Baking Cups
for making muffins, or for little, easy to hold meatloaves for baby! Food doesn't stick to them – instead, it pops right out, so they take two seconds to clean… better than scrubbing a muffin tin!
Also available in the UK
Pin It