We've been reading with interest this week about two healthy variations on foods we're already familiar with – the kiwi fruit and the humble potato.
The 'variations' we're referring to are the gold kiwi fruit and the purple potato, which may well be worth including in your homemade baby food recipes if they're available near you!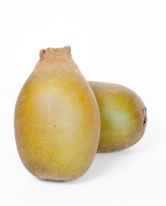 The gold kiwi was produced by the natural method of cross-pollination (not genetic modification) and – as you can see – has a slightly different shape to a 'regular' kiwi.
But there are another couple of differences that make it particularly interesting as a fruit for baby…
It's sweeter than green kiwi, with a taste temptingly described as being more 'tropical'

and

It contains even MORE vitamin C than green kiwi – already considered to be an excellent source of this important nutrient.
The item that really brought it to our attention this week was the publication of research in the British Journal of Nutrition that showed that gold kiwi improved iron uptake when eaten alongside iron-fortified cereal.
The study tested women rather than babies – but this still makes interesting reading. It's long been known that eating foods containing vitamin C alongside foods containing iron helps the body absorb that iron more effectively – and the report acknowledges that green kiwis (though a little lower in vitamin C) would produce similar results.
But taking the sweeter flavour of gold kiwi into account along with its excellent vitamin C content, we think that it would make a super and very valuable addition to baby's menu!
You can learn more about introducing kiwi fruit to your baby here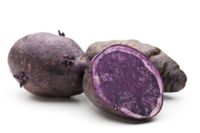 And so to the second fab food we've been reading about… the purple potato!
This colourful counterpart to the humble spud is rich in anthocyanins – the same valuable antioxidants that give 'superfoods' like blueberries and purple grapes their colour.
In fact, according to this report from the BBC, the purple potato contains up to 10 times more anthocyanins than the white potato, which is pretty impressive!
What's more, it's NOT genetically modified and has been developed from traditional varieties. Although it's been available for some time in North America (usually found stocked in the 'world produce' aisle) and elsewhere, it's just becoming more widely available in the UK, following trials that have shown it can be grown in Scotland!
Our special investigators (friends!) in America have tried this potato and have reported that it tastes identical to regular, white potato. But they also told us that the groovy purple colour was a big hit with the kids and the extra cost (compared to white potatoes) they were able to justify with the improved health benefits.
New and innovative foods or food varieties tend to take somewhat longer to reach our produce aisles here in the Bahamas than they do elsewhere in the world! So we'd be really interested in hearing YOUR experiences with either the gold kiwi or the purple potato – particularly in terms of how much you or your little one enjoyed them
If you've had a chance to try either of them out, then please do leave a comment below – or contact us here!
Pin It