We've just added two new recipes to our site that you might like to try serving to your little one this week!
The first is a sweet potato soup. Sweet potatoes are a wonderful food for babies, and the big 'plus' is that babies love them, making it a real pleasure to prepare and serve them!
If your tiny diner is getting a little bored with plain old sweet potato puree, though, then he'll LOVE our soup recipe! The addition of cloves and a touch of allspice transform it into something special, creating a dish you'll be happy to enjoy together!
Click here to see our recipe for Sweet Potato Soup for Babies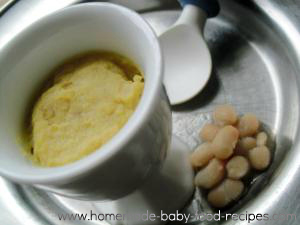 Next up on the menu is our super simple recipe for Creamy Egg Puree with White Beans.
This dish contains only three ingredients and takes only a couple of minutes to prepare, yet it's packed with nutrients and delicious served hot or cold. We've added it to our 'Egg Recipes' page, where you'll find LOADS more suggestions for tasty homemade baby food dishes you can make with eggs.
Click here to see the recipe for Creamy Egg Puree with White Beans
Leave a comment to let us know how much your baby enjoyed these recipes – or come and tell us on our Facebook Fan Page!
Pin It