Their name sums up these little treats perfectly! Vegeta-balls are balls of veggies, held together with egg and breadcrumbs and absolutely ideal for older babies and toddlers.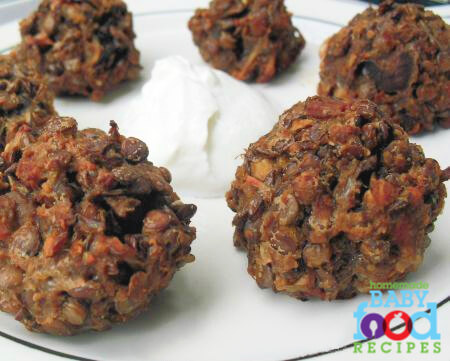 Whilst they may not be the prettiest food we've ever made, these balls sure do pack a punch in terms of flavour AND nutritional value. Suitable from around 10 months onwards, they have a slightly crunchy texture on the outside and a softer one on the inside, making them most suitable for babies who are already managing a little biting and chewing.
Also ideal for baby led weaning, these Vegeta-balls are 100% vegetarian.
We left our ingredients chunky, but you can actually produce Vegeta-balls with a smoother texture by pureeing the ingredients together before rolling!
If you'd like to make a large batch of these ahead of time, then it's possible to freeze them – but for best results we recommend freezing them BEFORE baking rather than after.
This recipe makes 8 balls, around 1 1/2 inches across.
We hope your baby enjoys them.
To Make Vegeta-balls for Baby You Will Need…
4 oz (1/2 cup) lentils (we used brown but any variety will do)
16 fl oz (2 cups) water or homemade vegetable stock
1/4 onion, chopped (optional, but the onion provides plenty of flavour)
2 heaped tablespoons of finely chopped sweet potato
1/2 celery rib, chopped
1 garlic clove, chopped (again, this is optional but gives a lovely flavour)
1/2 tsp dried thyme
2 tbsp olive oil
2 tsp tomato puree
3 button mushrooms, cleaned and chopped
1 small egg, lightly beaten
3 tbsp fresh whole wheat bread crumbs (made from around 1 slice of bread)
2 tbsp grated Parmesan cheese (omit if baby is vegetarian)
Pick over the lentils to remove any small stones then place in a small saucepan.
Add the water, stir, then bring to the boil.
Reduce the hit and simmer, partially covered, until tender (ours took 30 mins).
Drain.
Meanwhile, heat the olive oil in a small frying pan and add the onion, sweet potato, celery and garlic. Cook until tender and golden (around 5-7 mins).
Stir in the tomato puree, mushrooms and thyme and cook for 5-10 minutes more, until the liquid has all been incorporated.
Add this mixture to the drained lentils and allow to cool to a safe handling temperature.
Preheat the oven to 375 deg F.
When the mixture is cool, add the beaten egg, the cheese and the bread crumbs.
Mix thoroughly, then – using your hands – form into 8 balls.
Place on a greased baking sheet and bake until firm and cooked through (30 to 40 mins).
Cool and serve.
Serving ideas
Vegeta-balls are best served with a dip. Our little ones love them with natural yogurt, but they're also great with ricotta cheese. Another idea is to serve them with applesauce – when we did this once, we also stirred some chopped raisins into the lentil mixture – yum! If you're making these for the adults in your household too, try adding a little salt and some cayenne pepper – delicious!
More baby food recipes with lentils
Pin It