Our youngest son Joe (21 months) has an absolute favourite food at the moment – and it's fritters made with veggies.
He's currently going through that phase of being far more interested in running and playing than in actually sitting down to eat – so these fritters are a great way of getting vegetables inside him with no fuss whatsoever! We thought we'd share the recipe with you today in the hope that they may also help you tame YOUR toddler and encourage him to eat up his veggies without really even noticing they're there!
This recipe makes around 8 fritters, which are yummy enough to share with the family. You can, however, keep them in the fridge for up to 24 hours and reheat them – they're not as crispy, but our little man doesn't seem bothered by that at all! You can also keep them in the freezer for up to 1 month.
Ideal as a finger food or for baby led weaners, these fritters are for babies who are biting and chewing well. Please note this recipe contains whole eggs.
To Make Versatile Veggie Fritters You Will Need…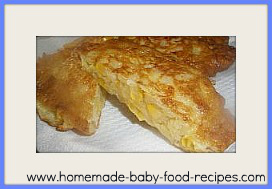 half of a 15 oz can of sweetcorn, drained thoroughly
2 eggs, separated
2 oz (1/2 cup) all purpose (plain) flour
1 oz (1/4 cup) whole wheat flour
5 tbsp milk
1 yellow squash, grated*
2 green onions/spring onions/scallions, chopped finely
pinch freshly ground black pepper
large pinch of paprika
olive oil
*We call these 'Versatile Veggie Fritters' because you can vary the veggie you use! In our recipe we used yellow squash, but we've also used zucchini (courgette) in the past, or grated carrot. Any of these will work well – just use whatever your baby prefers!
Pour the sweetcorn into a bowl and stir in the egg yolks.
Add both types of flour and mix well.
Slowly incorporate the milk into the mixture, continuing to mix well.
Add the yellow squash (or veggie of choice), green onions, pepper and paprika. Stir well.
In a separate bowl, whisk the egg whites. They need to be stiff enough to form peaks, so we recommend using an electric whisk unless you feel like exercising those arm muscles!
Very gently fold the egg whites into the rest of the ingredients with a palette knife.
Heat a little olive oil in a frying pan/skillet and plop in four large spoonfuls of the batter mixture.
Fry over a medium heat for a few minutes until golden, then carefully turn and repeat on the other side.
Repeat to cook the next four fritters (or save the batter to cook them later).
Cool and serve!
More finger food ideas
Baby led weaning recipes
Pin It