This baby food recipe SOUNDS appetizing and LOOKS amazing, but guess what? It's a simple combo made of just two ingredients… juicy plum and nutritious banana! Yet they're served in a whole new way – a way you might like to try if you're goal is to tempt a picky eater!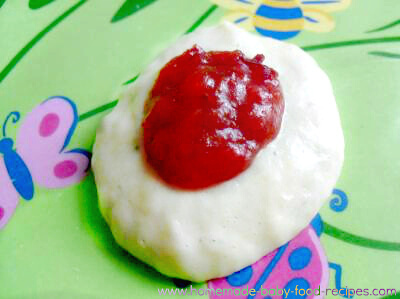 We devised this dish last weekend because we were thrilled to find fresh plums in our island store (not always easy to get here!). On tasting them we found they were rather tart, so we decided to mix them with another, sweeter fruit – and, of course, nothing fits the bill quite as well as banana!
Instead of just mixing the two purees together, we served them as shown in the photo. Whilst younger babies may not appreciate the visual appeal of a dish like this, older ones will love it! Our two year old was thrilled by the contrasting colours (not to mention the contrasting flavours AND temperatures).
Even we adults found this dish appealing because it turns relatively mundane, everyday ingredients into a 'gourmet' treat. What's more, it takes less than 10 minutes to prepare!
This recipe makes enough for you to share with baby and it's a perfect 'first food' (although we recommend initially introducing the two ingredients separately).
To Make Warm Plum Puree With Banana Cream You Will Need…
1 ripe plum, pitted and chopped*
1 ripe banana, peeled
a little water
*We chose not to peel the plum, in order to retain as many of the fruit's nutrients as possible. The skin on a plum may contribute to a tarter flavour, but we felt this was offset by the sweetness of the banana in this recipe. You may, of course, peel the plum if you prefer (and we recommend that you do so if your baby is younger than 6 months of age).
Place the plum in a small saucepan and add a small amount of water.
Bring to a boil, then lower the heat and simmer, covered, for around 5 mins, until the plum is very tender.
Transfer to a food processor – or blend in the pot – until smooth.
As the plum cools, puree the banana in a food processor until smooth and creamy.
Spoon some of the banana into baby's serving bowl.
Carefully spoon a smaller amount of the warm plum puree on top of the banana, then serve immediately as a delightful dessert!
Learn more about introducing your baby to plums and bananas – or discover some more ideas for basic baby food purees.
Pin It