Fall has well and truly arrived and our days at the moment are a delightful mixture of warm and cool.
So today's recipe is perfect for the season – delicious, warm, cinnamon-spiced banana, paired with the cool tang of natural yogurt. This easy-to-prepare dish is ready in just a few minutes and makes an ideal dessert for babies from around 6 to 7 months of age. The banana pieces are very soft and easy to gum, so it's also a great dish for introducing a little texture.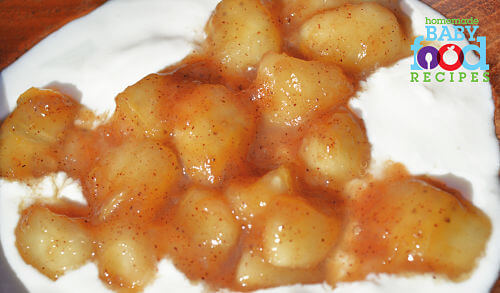 Please note that you can leave the maple syrup out of this recipe if you don't wish to give it to your little one. The banana produces a little sweet liquid as you warm it, so you'll still have something to drizzle over the yogurt.
To Make Warm Spiced Banana and Yogurt Dessert for Baby You Will Need…
2 tbsp plain, natural yogurt
around 1/4 medium, ripe banana
2 tsp pure maple syrup
pinch cinnamon to taste
Chop the banana into tiny, bite-sized pieces.
Place the banana in a small saucepan with the maple syrup, and add as much cinnamon as your baby will enjoy.
Warm over a VERY low heat, stirring constantly, until the banana is very warm and soft (around 4 to 5 mins).
Spoon the yogurt into baby's serving bowl and drizzle the banana mixture over the top.
Serve immediately.