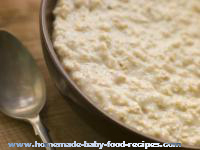 With five hungry children, we've never had to worry too much about what to do with leftover oatmeal (or leftover porridge, if you're in the UK).
But we DO receive emails from time to time from parents who have made a little more oatmeal than they need and wonder if we know of any alternative uses for it.
Fortunately, we do – and today we've put together a little list of What To Do With Leftover Oatmeal – please feel free to comment and add your own suggestions.
Refrigerate or freeze it! We're starting with the most obvious option, but it's still worth a mention, because you can simply divide your leftover oatmeal into portions and save them in the fridge (2 to 3 days) of freezer (up to 1 month), to warm up again as needed.Not only is this an option, it's something we do often! As with many other types of food, the bulk cooking of oatmeal is a real time saver on busy days, particularly if you like to prepare steel cut oats, which take longer to cook.Just two caveats – 1) the texture may change a little bit (although we find it's fine if you just add a little more milk or other liquid) – and 2) you should NOT freeze oatmeal you've made with previously frozen breastmilk (nor should you refreeze previously frozen oatmeal).
Refrigerate or freeze the leftovers into small portions and add to casseroles, stews or soups as a nutritious thickener.
Use in recipes for baked goods. Here's a great recipe for leftover oatmeal bread and mom of four Lisa from Sunday Hotpants has this simple recipe for Morning Oatmeal Muffins. You can also add around 1/2 cup of leftover oatmeal to your regular pancake recipes!
Make yummy oatmeal fingers, which are ideal for confident self-feeders. Simply press the leftover oatmeal into a square container to a thickness of around 2 inches and freeze. Remove from the freezer, then – when soft enough to slice – cut into 'fingers' or 'bars'.Dust with whole wheat flour, then heat a little coconut oil or unsalted butter in a frying pan/skillet and cook for a few minutes each side until golden. Serve with a natural yogurt or applesauce dip.
Make oatmeal patties by stirring 1 beaten egg into 1 cup (8 oz) oatmeal, adding a pinch of cinnamon if desired. Cook in the same way as oatmeal fingers (above).
Use instead of bread crumbs as a binding agent in meatballs, meat patties etc.
Add to your veggie purees to quickly create more substantial meals.
Add to your smoothie mixtures for an extra boost of nutrition.
Make fruity oatmeal bars by mixing 1 cup of oatmeal with 1 egg, 2 tbsp flour, 1 1/2 cups bread crumbs, 1/2 tsp cinnamon and 1 tbsp raisins, then forming the mixture into bars and baking them at 350 deg F for around 30 mins (thanks, Sheri, for this tip).
If you've yet to add oatmeal (or porridge) to your baby's menu, then do check out our Baby Oatmeal page, which is packed with nutrition tips, advice about which type of oatmeal to use and – of course – more great recipes!
Pin It