Brown rice – you KNOW it's a whole grain and a healthy food for baby… but perhaps you haven't yet discovered how to offer it to him in a way he'll enjoy.
Or perhaps your little one is a brown rice connoisseur and you're simply looking for even MORE ways to use this great grain in your homemade baby food recipes.
Either way, today's recipe will be just what you're looking for!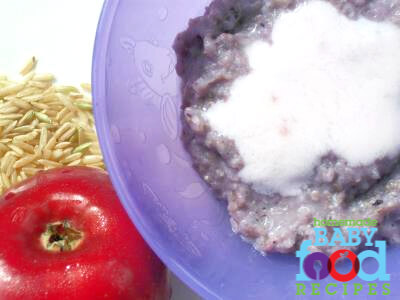 Sugar free and bursting with healthy fruits, this baby cereal recipe has a subtle sweetness and is far better for your little one than typical store-bought infant rice cereal, which tends to be poor in terms of nutritional value.
We recommend this recipe for babies from around 6 months of age. We tend to puree this dish to a not-quite-smooth texture, thereby providing soft little lumps to accustom baby to something a bit more substantial than purees.
Although the cooking time is fairly lengthy (owing to the fact that the recipe uses brown rice, which takes longer than white rice to cook), the actual 'hands-on' preparation time is minimal. This means that you can get the pot of rice underway, then leave it simmering whilst you go and do something else.
When our little ones were younger and the time available to cook breakfast in the mornings was shorter, we would prepare this ahead of time, divide it into portions, then put a couple in the fridge and the rest in the freezer, to be thawed as needed.
This recipe provides around 5 to 7 portions, depending on the size of your baby's appetite!
So let's get busy with breakfast…
To Make Baby's Whole Grain Brown Rice and Blueberry Breakfast You Will Need…
4 oz (1/2 cup) uncooked brown rice – (we use Lundberg Brown Jasmine Rice, which has a perfect flavour for this dish!)
8 fl oz (1 cup) water
4 fl oz (1/2 cup) milk (we used whole milk but you can also use breast milk or formula)
3 drops vanilla extract (optional)
1/2 tsp ground cinnamon
2 oz (1/4 cup) blueberries (use frozen berries, thawed, if fresh are not available)
1 dessert apple, cored and cubed (no need to peel – remember, the skin contains the bulk of the apple's nutrients)
1 tbsp natural yogurt per serving of cereal
Pour the rice, water and milk into a saucepan and bring to the boil.
Lower the heat, add the vanilla and cinnamon, cover and simmer very gently for 40 mins.
After 40 mins, quickly remove the lid, add the blueberries and diced apple and re-cover.
Simmer for a further 10 mins, then turn off the heat.
Allow to stand for 5 mins.
Remove the lid and process in the pot with a hand blender, or transfer the mixture to a food processor. Blend until the mixture is relatively smooth, with only small 'lumps' remaining. If the mixture seems too 'stodgy', add some more milk, until you reach the consistency you want.
Just before serving, top baby's cereal with a tablespoon of natural yogurt, for extra creaminess and a nice boost of calcium!
We hope baby enjoys this wholesome breakfast. We have lots more great ways to start baby's day here…
Learn more about introducing brown rice to baby
Try more blueberry baby food recipes
Pin It