When we lived in England, a 'biscuit' was what would be known as a 'cookie' in the US.
Here in the Bahamas, however, the word 'biscuit' is generally used in the same way as in America – it means a little bread, made with a leavening agent and is pretty much the same thing as what the British would describe as a 'scone'.
Biscuits here and in the US are often served alongside savoury dishes – and we've learned to really enjoy this little accompaniment to our dinner! We've also done a fair bit of playing around with recipes in order to create biscuits with – you've guessed it – vegetables in them!
Today's recipe is our version of biscuits, made with whole wheat flour and carrots. We did use some white flour in the recipe as we found them a bit too dense with 100% whole wheat flour – but if your little one doesn't mind a heavier texture, then simply use all whole wheat instead.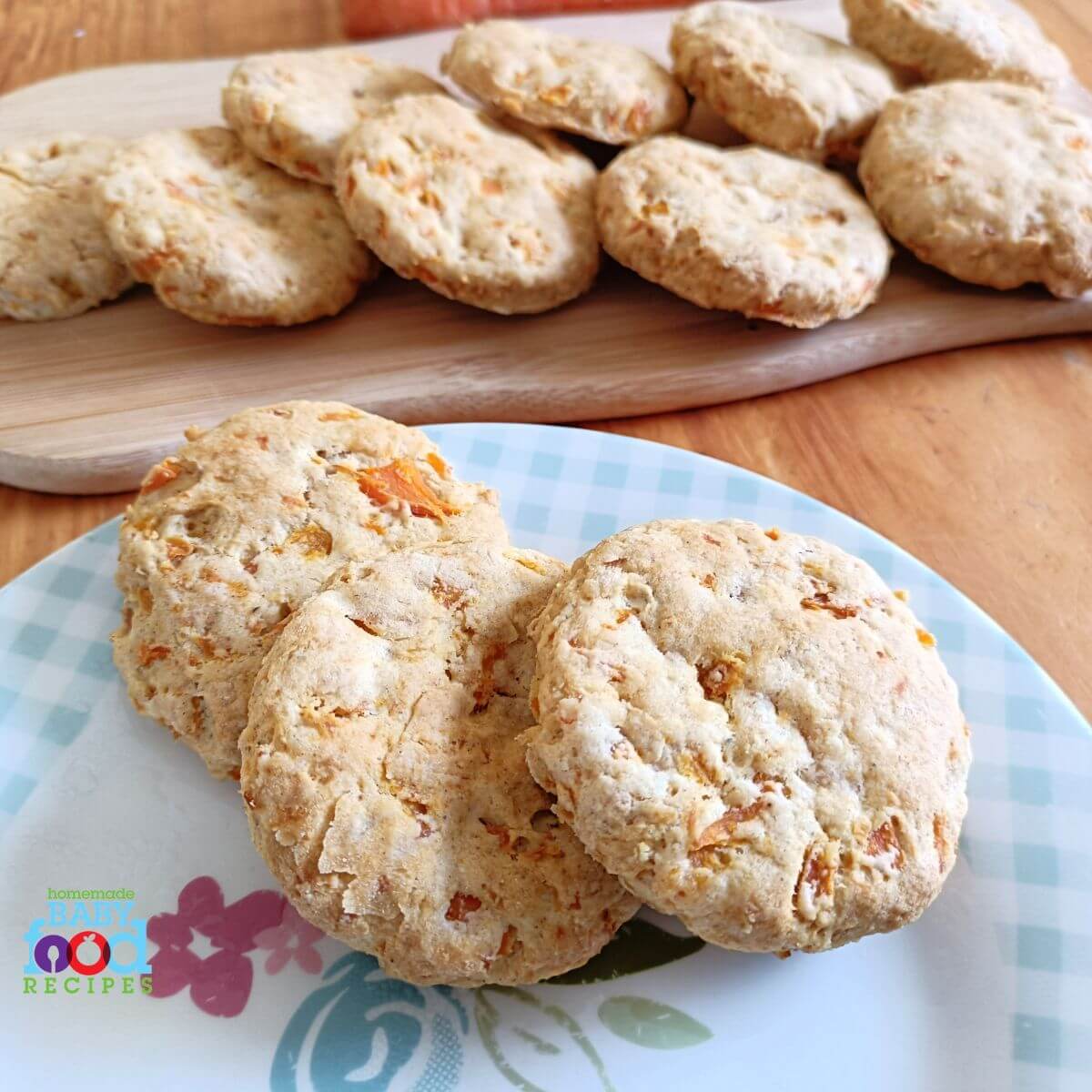 These biscuits are a great finger food for babies who are comfortably biting and chewing. They can be eaten just as they are, or spread with something yummy (try homemade yogurt cheese) – your little one can even use them to dip in soup!
To Make Whole Wheat Carrot Biscuits for Your Baby You Will Need…
2 oz (1/2 cup) whole wheat flour
2 oz (1/2 cup) all purpose flour
3 tsp baking powder
2 tsp brown sugar
2 tbsp butter
6 oz (3/4 cup) cooked, mashed carrots
2 to 4 fl oz (1/4 to 1/2 cup) milk
1/2 tsp ground cinnamon
1/2 tsp ground nutmeg
Preheat the oven to 375 deg F (180 deg C).
Mix the flour, baking powder, spices and brown sugar together in a bowl.
Rub in the butter until the mixture looks like bread crumbs.
Mix in the mashed carrots, then add enough of the milk to form a soft dough.
Roll out the dough on a floured surface to a thickness of 1/2 inch, then cut with a cookie cutter into circles.
Grease a baking sheet and place the biscuits on it, at least one inch apart.
Bake until golden (around 10-15 mins).
Please let us know whether your baby enjoyed these biscuits!
And you can find more tasty carrot baby food recipes here
Pin It