We're starting to feel a little chill in the air here in our corner of the world – but we've spoken to a couple of mums this week who have been contending with extreme cold… and even snow!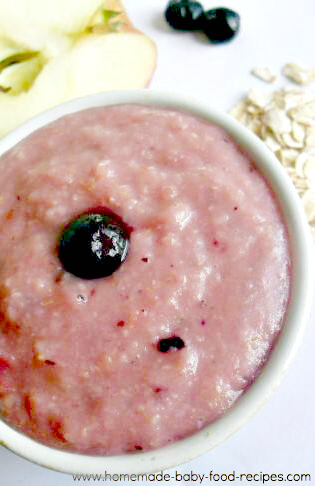 So we thought it would be a good time to share a recipe for a nourishing winter breakfast, which will give your baby a warm and wonderful start to the day!
This recipe is suitable from 6 months of age (or even from 4 months if your pediatrician has advised you to start solids and your baby has been introduced to all the ingredients).
It's a delightful blend of whole grains and vitamin rich fruits, with a natural sweetness your baby will love!
It produces a generous cup of oatmeal (or porridge) – if you plan to save some for future use you might like to wait until just before serving to add the banana.
To Make Baby's Apple, Banana and Blueberry Oatmeal You Will Need…
1/2 dessert apple (we used Gala), cored and chopped*
4 tbsp old fashioned oats (rolled oats)
4 fl oz (1/2 cup) apple juice
8 to 10 plump blueberries (fresh or thawed from frozen)
1/2 medium ripe banana
*For babies over 6 months of age, you might like to leave the apple unpeeled. The skin purees up very well and contains lots of nutrients.
In a small saucepan, combine the chopped apple, oats and apple juice.
Bring to the boil, then immediately lower the heat and cover.
Simmer gently for 5 minutes – by the end of this time, the apple should be tender.
Transfer to a blender and add the banana and blueberries.
Puree until smooth.
If you'd like a little more texture, try mashing the banana and chopping the blueberries, then stirring them into the apple/oatmeal mixture AFTER you've pureed it. And for extra flavour, try adding a pinch of ground cinnamon – delicious.
More baby oatmeal recipes
More blueberry baby food recipes
More apple recipes
More banana recipes
More breakfast ideas for baby