We love this banana pancake recipe – it's quick, easy and healthy!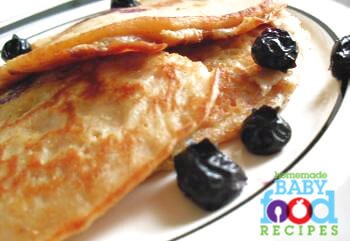 The perfect finger food or baby led weaning recipe for those who have been introduced to whole eggs, these pancakes are completely delicious (we enjoy them right along with our little ones!).
And the wonderful thing is that they are completely sugar free and provide the goodness of whole grains.
They also freeze very well, so we like to make up a big stack at the weekend, pop a square of waxed paper in between each one and store them in the freezer, to be used individually as needed.
The waxed paper, of course, stops them sticking together.
It's the perfect solution for providing a healthy breakfast on a busy morning.
Serve your pancakes with applesauce, natural or vanilla yogurt… or, as we've done here, a handful of blueberries (ours were thawed from frozen, which explains their less-than-plump appearance)!
This recipe makes about 10 to 12 pancakes, depending on the size.
To Make Banana Pancakes for Baby You Will Need…
4 oz (1 cup) whole wheat flour
8 fl oz (1 cup) milk – use whole milk, formula or breast milk
1 tbsp melted, unsalted butter
1 egg
1 ripe banana, mashed
Beat the egg in a small jug and stir in the milk.
Place the flour in a bowl.
Using a fork, incorporate the milk mixture – a little at a time – into the flour, until you have a smooth batter.
Stir in the mashed banana and the butter (if you want to add any extras, such as a little chopped apple or blueberries, do so at this point).
Chill for 20 mins.
Lightly grease a frying pan, heat and spoon the mixture into the pan to create individual pancakes (we cook 2 or 3 at a time).
Cook for around 2 mins, then check underneath – as soon as they are golden, turn them over carefully and cook for a couple of minutes more.
Cool to a safe finger food temperature and serve!
We hope your baby enjoys this recipe! Now check out…
More baby breakfast ideas
Our guide to baby finger foods
Our guide to baby led weaning