You've bought a mesh feeder (also known as a teething feeder) for your baby because you've heard they're a great way to allow your baby to feed himself safely.
But what on earth should you put in it?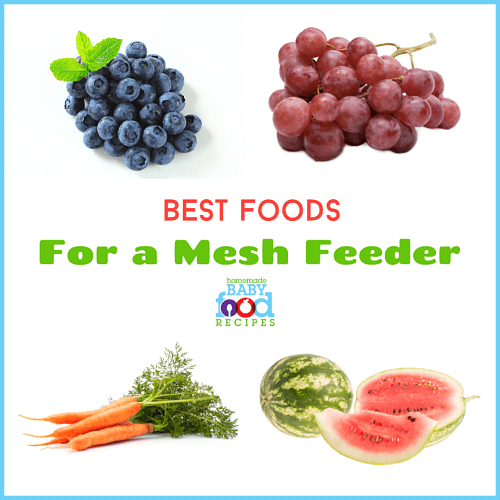 One of the most popular foods given in a mesh feeder is banana – probably because pieces of banana can be as slippery as soap and very difficult for your poor baby to pick up! Frozen banana is great too.
But beware – you can ruin your feeder forever if you don't act quickly to clean it afterwards.
AS SOON as your baby has finished eating, start cleaning the feeder – otherwise, the leftover brown gunk can be very difficult to remove.
Even the dishwasher won't do a great job if the fruit is left on there for too long.
The best way to get the banana bits out is – quite simply – to hold the mesh feeder under running water and scrub it with a toothbrush (set aside for the purpose) or a stiff dish-washing brush. If the bits are particularly stubborn try soaking the bag in a 50/50 mixture of white vinegar and water.
Other great foods for putting in a teething feeder include
chunks of melon. Try pureeing melon then freezing it – excellent relief from sore gums if your baby is teething.

raw apple (apples are fairly hard and many parents worry about the choking risk associated with giving them as a finger food. This is a great way to enable your baby to enjoy fresh apples)

uncooked pear

frozen blueberries

grapes (really yummy when frozen!)

peaches / nectarines

pieces of fresh or frozen raw carrot

fresh strawberries (when appropriate)

fruit popsicles (try freezing your baby's favourite fruit puree stirred into yogurt. A messy – but delicious and healthy – treat)

crushed ice or frozen breast milk
Remember – fruits that are placed in a mesh feeder don't need peeling, because the skin (and any seeds) will stay inside the mesh bag and your baby will just get the mushy flesh.
Some parents also put in soft cooked vegetables (such as sweet potato), although your baby should be able to manage these quite well anyway by just mashing them with his gums!
One last point – teething feeders can be messy, particularly if your little one takes to throwing one around. A way to combat this is to use a pacifier clip to attach the teething feeder to his bib – no more feeder flinging!
Haven't got a mesh feeder yet?
Teething feeders available online from Amazon…
Fresh Food Feeder (US)
Click here for a UK version
What does your baby enjoy eating in his teething feeder?
We'd love to hear how YOU use your mesh feeder – and please feel free to share your feeder cleaning tips, too!