We received the following message from Susan in Wyoming, who was concerned about the presence of bones in a can of salmon she had just opened…
I don't like fish at all, but my pediatrician told me that's it's good for my child, so I'm making an effort to include it in her meals when I can!

Today, I bought a can of salmon, which I thought I could use to make a sandwich for her – but when I opened it, it was full of bones! I have never used canned salmon before – is it supposed to look like this? How on earth do I remove all these bones?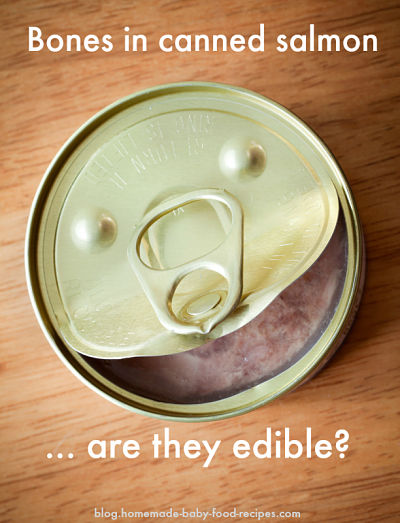 Well, the good news is that you don't have to, Susan – the bones in canned salmon are not just SAFE to eat… they're actually packed with calcium, making them GOOD to eat!
Unlike the bones you may encounter in fresh fish – which, of course, pose an extreme choking hazard to young children AND adults – the bones in canned salmon are soft and easily crushed with a fork. For a baby already coping well with eating sandwiches, the crushed bones from canned salmon should pose no problem and will not be noticeable within the fish.
Personally, I LOVE the bones in canned salmon – they give it an interesting texture and I never crush them before eating! Older babies who are biting and chewing well should have no problems in dealing with this crumbly texture, either!
But despite their being a great source of calcium, some people do find the sight of all those bones in a little off-putting (and canned salmon often contains skin, too!). If you're one of those people, then you may prefer to look for cans of boneless, skinless salmon instead (although you will probably have to pay a little more).