One of the most popular pages on our site is the one explaining how to make natural yogurt. Parents are thrilled to discover how very easy it is to produce homemade yogurt – and how it's not only cheaper than the store bought variety but tastes better too!
You can find out How to Make Yogurt here
We received a message last week from a mom who'd followed the instructions and successfully made a batch of delicious yogurt, but wanted to know if she could achieve the same results using breast milk.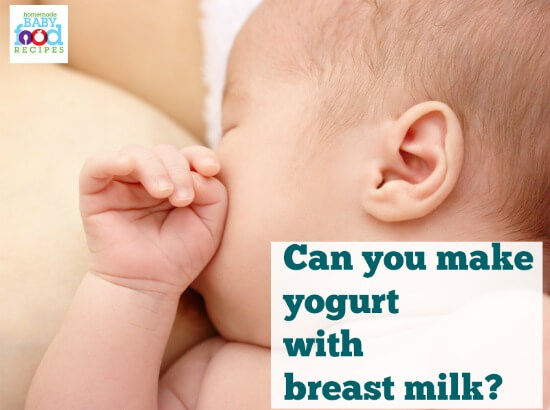 I must begin our answer by saying that we have never attempted to do so ourselves.
We always use whole (or full cream) milk in order to produce a creamy, relatively thick yogurt and have found that using lower fat milk gives us rather watery results.
Breast milk is, of course, lower in fat than whole cow's milk – so we never did try making a batch of yogurt with it. However, we've heard from plenty of moms who have – and the common consensus is that it DOES produce results that are significantly more watery than cow's milk.
That being said, there ARE ways around the problem – and the thinner texture doesn't necessarily mean that it's not worth a try! Here are a few suggestions….
Allow breast milk yogurt to sit for a little longer than we recommend on our Homemade Yogurt page. Whereas we find seven hours to be a good 'waiting period' for cow's milk yogurt, those who make yogurt with breast milk tend to find it way too runny at this point, suggesting waiting until around 9 to 10 hours instead.

Carefully observe the temperatures suggested in our recipe. Allowing the mixture to become too hot or too cold can cause the bacteria to become inactive. However, many parents using breast milk to make yogurt choose to skip the step where the milk is initially heated to a high temperature. This is because they do not want to destroy the nutrients in the milk and also because breast milk is sterile anyway!

Don't move the yogurt around during the fermentation process (this applies regardless of the type of milk you are using). Moving the mixture – or stirring it – disturbs the work of the bacteria and can ruin your end results. As tempting as it is to test the texture, don't do it until the yogurt has been sitting for around 9 to 10 hours.

Try thickening the yogurt with baby's cereal, wheat germ or silken tofu. Another option is to dissolve 1 tbsp agar flakes in 3 tbsp hot water, then stir the mixture into your prepared yogurt. Agar is essentially a vegetarian gelatin, with no odour or taste and it's great for helping your yogurt to appear more 'set'.
If you happen to have a go at making some breast milk yogurt for YOUR little one, please do leave a comment below to tell us how you got on. And if you're already successfully making yogurt with breast milk and have any tips to share, then we'd love to hear those too!
Why not also try some homemade yogurt cheese – a super nutritious food for baby!