Canned tuna is one of the best-selling forms of seafood worldwide. Tuna contains many important nutrients, including protein, B vitamins, minerals and Omega-3 essential fatty acids. These fatty acids are called 'essential' because they are vital to human health, but cannot be made by the body and must be obtained from food.
You should – of course – speak to your doctor before introducing tuna to your baby. In general, babies can be introduced to tuna once they're already enjoying a range of fruits and vegetables – usually from around 7 months plus.
Research recently published in the Archives of Disease in Childhood showed that introducing fish before 9 months of age may reduce baby's risk of eczema – so it may be beneficial to introduce it sooner rather than later – but it is important to check with your doctor first as there may be reasons why fish is not appropriate for YOUR baby just yet.
As fresh tuna is not readily available in all areas, canned tuna is the common choice for most families. But before introducing canned tuna into your little one's diet, there are five important point to think about…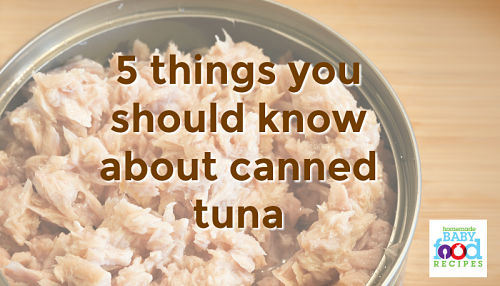 Some fish contain high levels of mercury, which is harmful to health. For this reason, the FDA warns that young children should not eat King Mackerel, tilefish, shark or swordfish. It lists tuna as one of the fish lowest in mercury and one of the best choices for young children.

Guidelines from the FDA state that pregnant women may eat up to 12 oz (2 average meals) of low-mercury fish per week and that parents should


Follow these same recommendations when feeding fish and shellfish to (their) young child, but serve smaller portions.

Therefore, one or two 'baby sized' meals per week containing tuna would be acceptable.

Canned 'light' tuna is lower in mercury than albacore 'white' tuna, so it's the best type to feed your baby. It's also the cheapest of the two, which is fortunate!

Canned tuna packed in water rather than oil is believed by some to retain more of those Omega-3 essential fatty acids. This is because the natural oils in the tuna blend with the oil in the can… so when you drain the can, you lose these natural oils. But because oil and water don't mix, the fatty acids in the tuna are less likely to leach out when the fish is packed in water – and the tuna will be more nutritious as a result.

Canned tuna may contain more than just tuna! Check the labels carefully – some contain a lot of salt or other ingredients, such as soy or the milk protein casein, which may cause reactions in sensitive babies. Look for low sodium or salt free varieties and make sure that your child is able to safely consume any other ingredients listed. If in doubt, check with your doctor.
Once you're satisfied that your little one is ready for a taste of tuna, here are two simple and tasty tuna baby food recipes for you to try…
Nutritious tuna pasta with avocado mayonnaise