Did you know that canned (or tinned) sardines are brimming with beneficial nutrients for your baby? They are rich in omega 3 fatty acids, which not only help with the development of your baby's brain, but are also a great immunity booster.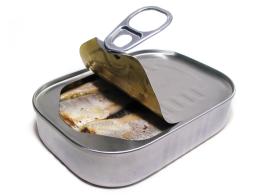 Sardines are also very high in calcium (particularly when packed with their bones) and contain B vitamins, iron, phosphorus, manganese, copper and zinc.
Source: Nutrition Data
Another benefit of including sardines in your baby food recipes is that they are very low in mercury (source: Natural Resources Defense Council – Consumer Guide to Mercury In Fish), often a concern with other types of fish and the reason that doctors often recommending limiting their consumption. Being low on the food chain and small in size, sardines are considered to be one of the safest fish in terms of mercury content.
Who knew that such a readily available (and inexpensive) food could be so good for your little one?
Not all canned sardines are created equal – quality varies from one brand to another and it's generally the more expensive brands that are the best.
Check the label and avoid those that contain 'extras' like preservatives or flavourings . We recommend giving those sardines packed in sauces a wide berth, as we often find the sauces range from poor to downright unpleasant in taste – they also contain added salt, which you want to avoid in your baby's meals.
If you'd like to learn about some of the more 'gourmet' canned sardines available, then head over to the Sardine Society, where there's lots of information for the sardine aficionado!
The bones in sardines are very small – and the cooking that forms part of the canning process softens them considerably, to the point where they are easily crushed when the sardines are mashed with a fork. If you have any concerns about serving them to your baby, then it IS possible to buy boneless (and skinless) canned sardines – but they will contain far less calcium than the 'bone-in' variety.
We have introduced canned sardines to our little ones from around 7 months of age, with crushed bones, although you should check with your doctor before giving any new foods to your baby. The bones have never been an issue for us, but if you think your baby may not enjoy them, then by all means go ahead and use the boneless variety until he's a little older.
So how can I include sardines in my homemade baby food recipes?
If you're not a fan of sardines – or have never tried them before – you may find the sight of them a little off-putting when you open the can – particularly if their skins are still on!
But their flavour is so much nicer than their appearance would have you believe – many people (us included) find them so delicious they eat them straight from the can!
Here are some creative ways to serve sardines to your baby…
Mash them well, then combine with cream cheese (we like to add a little sweet paprika, too). This creates a nutritious spread, which you can use to top pieces of bagel or whole wheat toast.
Stir mashed sardines into scrambled eggs – a great idea for lunch!
Mix sardines with cottage cheese and finely diced cucumber to make a quick and easy salad.
Mash together sardines and avocado, with a little chopped fresh cilantro (coriander), for a nutritious sandwich filling or toast topper.
Saute a little garlic in olive oil, add fresh, chopped tomatoes and cook until the tomatoes have broken down. Add mashed sardines, cook for several more minutes, then toss with spaghetti (chopped to size) or small pasta shapes. Sprinkle with chopped fresh parsley and you have a delicious dinner for baby with a Mediterranean twist!
Mmm… writing this post has inspired us to go and buy some tasty sardines for lunch! If you have a wonderful way of preparing these fabulous fishies for your baby (or for the rest of the family), then please do share your ideas!