We received an interesting question from Diana in Toronto, Canada who asked us
My husband and I are taking a trip to Mexico and bringing our daughter. She will be 8.5 months at the time. I will not have access to a kitchenette or refrigerator as we are staying at an all inclusive resort. I don't want to offer any jarred foods. What can I do?? I know I can give her banana and avocado but that likely won't be enough for 1 week!! Please help!
Diana, having no access to either cooking or refrigeration facilities can be quite a challenge when it comes to continuing to provide homemade baby food – however, we do have some suggestions for you that should help you get through the week and provide a little variety for your baby!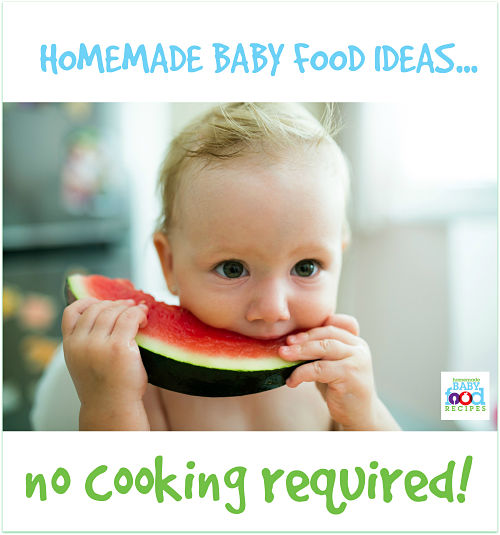 As you mentioned, avocado and banana are foods that can be easily prepared without cooking. Papaya, melon, peach and plum can also be mashed up and served without cooking (this page provides more information about serving raw foods to your little one).
A ripe, juicy pear is another option and can be mashed up quite easily.
If you can buy individual pots of natural yogurt at your resort, these can be served either alone or with mashed fruit added. Including ripe, mashed banana can help sweeten the yogurt, as it may be too tart otherwise. Mashed melon and banana with yogurt is particularly tasty! You could also add grated apple to yogurt – again, no cooking is required.
Little pots of cottage cheese would be ideal if they are available at your destination. Cottage cheese is great served alone, or with fruit added.
For a boost of nutrients, We recommend taking some toasted wheat germ with you and adding it to the food you offer your baby.
If cooked chicken is provided during your meal at your resort, then this could be finely shredded with a fork and mixed with natural yogurt and mashed melon as a simple but tasty chicken salad.
Canned tuna can be mashed with canned lima beans for a tasty dinner – ensure that the lima beans are either salt-free or low sodium. If they DO contain salt, rinse them thoroughly before use (there is more information about using canned foods in your baby food recipes here).
Cous cous can be very easily prepared during your break, as long as you have access to fresh, boiled water, which your hotel may be able to provide. Once boiled water is poured over cous cous and the grains have absorbed the moisture, it is ready to eat. It can be combined with fruit purees or yogurt for a more substantial meal.
For an easy breakfast, you could soak a slice of whole wheat bread in milk, then mash it thoroughly with banana or another fruit puree.
Another breakfast option would be to bring some Cheerios with you and soak them in applesauce (which you would have to buy in its jarred form) or with another fruit you have pureed yourself (you might like to consider taking a manual food mill along with you to make pureeing easier – the Munchkin Baby Food Mill that appears on this page would be ideal).
You could also try bringing along some instant oatmeal – not the best choice nutritionally, but acceptable for just one week and only needing the addition of boiling water! You can make it more nutritious by stirring in pureed fruit.
However, uncooked rolled oats can be used too – if you mix them with apple juice and allow them to soften, then stir in another fruit or yogurt and mash well, they can make a filling and nutritious breakfast (this is something we offered to our little ones when in a similar situation with no cooking facilities).
Important note: To avoid the risk of food poisoning, please make sure that all the fruits and vegetables are washed and cleaned thoroughly in sterile water.
Can YOU come up with any more suggestions for foods that Diane might be able to offer her baby during her vacation?
Please leave your comments!