Spicy baby food? If you're new to our blog or website, then you might be surprised at the idea of spicing up baby's meals, particularly if you've always been led to believe that baby food should be bland and unseasoned!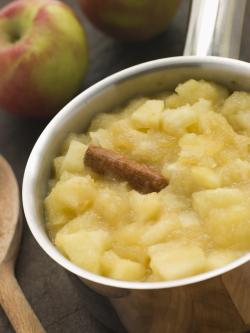 But there are certain spices that add a new warmth and flavour to food without heat – and not only is it OK to add them to your little one's food… you'll probably find that he enjoys his meals even more as a result!
One of the most popular spices among babies and adults alike is cinnamon. An ancient spice – to which you'll even find references in the Bible – cinnamon is loved not only for its flavour but also for its nutritive and medicinal properties.
It is rich in antioxidants – in fact, in the spice world it's actually one of the best sources of these beneficial nutrients. It's also an excellent source of manganese, plus it contains iron, calcium and fibre… definitely something to consider next time you're looking for a way to pep up baby's purees!
Cinnamon also has antiseptic properties, and its ability to prevent the growth of bacteria has made it useful as a preservative throughout history.
It is believed to be a wonderful aid to digestion too, because some people find it helps break up intestinal gas – so if your baby seems to have difficulty in digesting certain foods, then the addition of a little cinnamon may be helpful.
Furthermore, cinnamon seems to be beneficial in easing the symptoms of the common cold.
Cinnamon is also believed to be helpful in treating diarrhea – so a bowl of cinnamon infused applesauce, for example (one of the foods we recommend on our 'Feeding a Baby With Diarrhea' page) may be extra effective in resolving the problem.
For adults, cinnamon is revered for its ability to control blood sugar levels (particularly useful for diabetics), to lower cholesterol and to help prevent or treat yeast infections. It's also a popular remedy for morning sickness!
Just sniffing cinnamon is reported to have amazing effects – it's said to elevate the mood and improve brain function !
Sources:
Nutrition Facts – Cinnamon, Ground
The Claim: Cinnamon Oil Kills Bacteria (New York Times)
WHFoods
When can I add cinnamon to my baby's food?
As with most herbs and spices, we recommend adding a little cinnamon to your baby food recipes from 6 months of age (with your doctor's consent, of course). If you are introducing solids before 6 months of age – when your baby's digestive system is a little more immature – then it's a good idea to keep your baby's food simple, giving his body time to adjust to 'real' food before adding any extra elements into his diet.
When you DO introduce cinnamon to your baby, treat it as you would any new food – that means introducing it separately as per the four day rule.  Cinnamon may cause allergic reactions in sensitive individuals – in babies, an allergic reaction to cinnamon  may present itself as a diaper rash.
Remember – if you think your baby is experiencing any type of reaction as a result of eating cinnamon, then you should discuss your concerns with your child's doctor.
Tips for buying and storing cinnamon
Cinnamon comes from the bark of the cinnamon tree. It is dried, then rolled into little tubes called 'quills'. You can either buy whole quills – better known as cinnamon sticks – or you can buy ground cinnamon.
The flavour of cinnamon is sweet and warm, although you may come across cassia instead,which – confusingly – is sometimes called cinnamon too! Cassia is redder in colour than cinnamon, with a stronger – almost bitter – taste. If you have the choice, then pick true cinnamon for sweeter dishes and cassia for savoury ones.
Ground cinnamon has a stronger flavour than cinnamon sticks, but cinnamon sticks will last longer – up to a year if stored in a cool, dark place. Ground cinnamon loses its flavour very quickly and should be used within 6 months of opening. Try storing it in the fridge, which keeps it fresher for longer.
Another option is to grind your own cinnamon sticks as needed – this can be done using a spice grinder or even a coffee grinder.
TIP: To get even more flavour from your cinnamon sticks, try 'dry roasting' them over a medium heat in an iron pan. It smells wonderful and really enriches their taste!
Tips for including cinnamon in your homemade baby food recipes
Add warm cinnamon tones to stews, soups and curries by placing a whole cinnamon stick in the pot, then removing it at the end of the cooking time.

Add a little cinnamon to the flour when baking for your baby – it tastes wonderful in bread and muffins.

Infuse grains like rice, quinoa and barley with flavour by adding a whole cinnamon stick to the cooking water, then removing it at the end of the cooking time.

Rub meat with ground cinnamon before cooking – yum!

Core a whole apple, pop a cinnamon stick into the hollow and bake in the oven until tender. The cinnamon flavours the apple beautifully!

Tasty though it is, don't use too much cinnamon in your recipes – it can be quite overpowering and dominate all other flavours in the dish if used too liberally.
Baby foods that taste great with cinnamon
Here are our suggestions for foods that taste wonderful when mixed with cinnamon (there are quite a few, which may leave you wondering which foods DON'T taste great with cinnamon!)
Do feel free to comment and share your own suggestions…
More ideas with spices – turmeric