A good, homemade fish cake tastes nothing like its store-bought counterpart – and, in our opinion, fishcakes are sadly underrated as a delicious and satisfying food.
This recipe combines the goodness of both fish AND sweet potato – creating a meal that's nutritious and perfect for babies who like to feed themselves!
This recipe makes three fish cakes, although you could make 4 to 6 'bite size' cakes instead.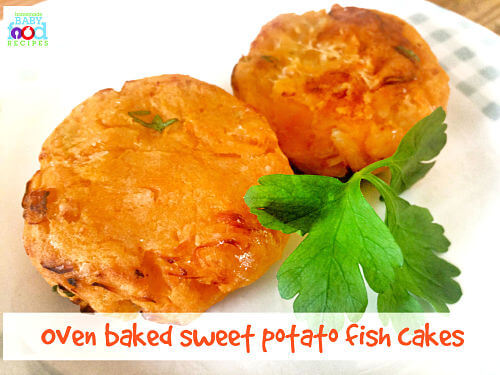 For Oven Baked Sweet Potato Fish Cakes You Will Need…
3-4 oz white fish fillet (we used cod)
1 cup milk
1 small white potato (around 6 oz, cooked)*
1 small sweet potato (around 6 oz, cooked)*
1 tbsp chopped fresh parsley
pinch garlic powder (optional)
little olive oil
*The easiest way to prepare the potatoes for this recipe is simply to bake them in their skins (we do ours alongside the family meal). Put the white potato into the oven before the sweet one, as it will take a little longer to cook.
Preheat the oven to 400 deg F (200 deg C).
Cook the fish by gently simmering it in milk until it flakes with a fork. Once cooked, drain the fish (reserving a little of the milk it was cooked in) and flake it thoroughly with the fork, double checking carefully for bones.
Mash the cooked white and sweet potato in a bowl with the garlic powder (if using). Add the reserved milk if the mixture seems too thick, then add the parsley.
Stir in the cooked, flaked fish and mix well.
Grease a baking tray. Form the mixture into fish cake shapes with your hands and place on the tray.
Flatten each fish cake gently and drizzle with a little olive oil.
Bake for around 20 mins, until the fish cakes are lightly golden and a 'skin' has formed.
If you wish to prepare these fish cakes in advance for future use, divide the mixture into portions and freeze it BEFORE you cook it in the oven. Then you can just thaw the portions and cook them as needed.
More fish recipes
More sweet potato ideas