Move over mashed bananas – babies these days are enjoying far more sophisticated dishes… and this wonderful baby curry recipe is so delicious that it will be enjoyed by family members young and old!
This recipe does not produce a hot curry – as much as we believe that babies should be introduced to a wide (even exotic) range of ingredients, we're not suggesting that you add chili or other hot spices to his food when he's still getting to grips with making the transition from his milk diet!
But an aromatic blend of delicate spices (such as those used here) will simply introduce him to exciting new flavours and help develop his palate – both of which go a long way to preventing fussy feeding later on.
You can read more about introducing your baby to herbs and spices here
This recipe also contains lentils which may cause gas (wind) in some babies (although there are steps you can take to minimize this – find out more here!)
This recipe can be given to your baby from 6/7 months of age, although you may wish to wait until your baby is a little older if you are concerned that any of the ingredients might upset his tummy.
It can be served chunky (as shown) or pureed until smooth. And it has such a wonderful flavour that we highly recommend cooking up a big batch and sharing with the rest of the family, who may wish to add a little salt and perhaps some chili powder for a more robust flavour!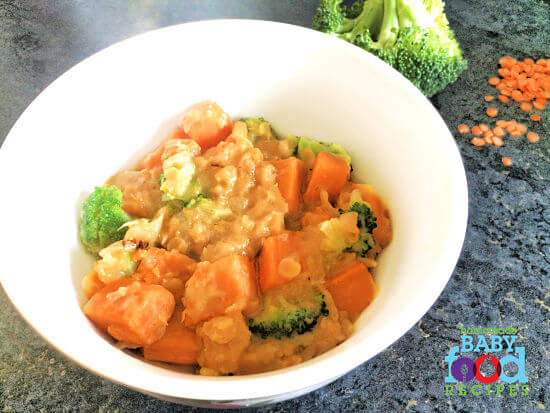 For Baby's Sweet Potato and Coconut Curry You Will Need…
1/4 cup red lentils
1/2 small onion
1 medium sweet potato, peeled and cubed
1/2 tsp fresh ginger, grated
1 garlic clove, crushed
3/4 can of coconut milk
handful broccoli florets, chopped
pinch each of: of cumin, cardamom, paprika and turmeric
In a small pan, saute the onion in a little olive oil until golden. Stir in the cubed sweet potato and cook on a low heat, stirring, for 5 minutes.
Stir in the ginger, garlic and the coconut milk and bring the mixture to a rapid simmer, stirring constantly.
Stir in the lentils and spices.
Reduce the heat to very low and simmer gently, covered, for around 10 mins, stirring in up to 1/4 cup of water if the mixture becomes too dry.
Add the broccoli to the pot and continue to simmer until the sweet potato cubes and broccoli are tender.
Serve with cooked rice, or with chapati or roti for babies enjoying finger food!
If you have any leftovers (we never do!) they can be frozen.
Would you like to discover MORE curry recipes for your baby?
Then check out…
Indian baby food recipes (7 months+)
Indian baby food recipes (10 months+)