Coconut oil not only smells and tastes wonderful – it actually has a useful role in baby's diet.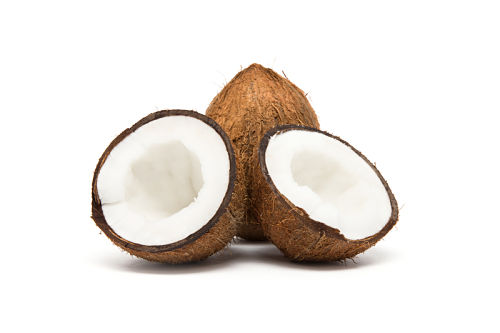 Why do some online resources state that coconut oil is unhealthy?

If you've ever researched 'healthy oils' online, then you may have avoided using coconut oil as a result of what you've discovered! It's true that it sometimes gets listed as an unhealthy oil, but this is usually because either
the report is talking about refined or hydrogenated coconut oil, which is not as healthy
the report's author knows that coconut oil is high in saturated fats and has therefore condemned it to the list of dietary 'baddies'.
But evidence is growing to support the fact that pure, virgin coconut oil (that has undergone no or very minimal processing) can play a useful part in the diet – and that the saturated fats in coconut oil are very different to those in animal fats and other oils.
This is because coconut oil contains mainly 'Medium Chain Fatty Acids', whereas most other oils contain 'Long Chain Fatty Acids'.
So what's the difference?
Well,  Long Chain Fatty Acids are not easily digested by the body – and are the ones that tend to sneak off to your hips and thighs to settle in for the duration!
Whilst this isn't an immediate concern for your baby, of course, these are the types of fats that should – in the long term – be avoided or kept to a minimum in the diet.
Medium Chain Fatty Acids – like those so abundant in coconut oil – act differently within the body.
They are easily digested and a great source of fuel for your baby. As such, they are often used in the formulas provided in hospitals for babies AND adults.
Also of interest is the fact that another great source of Medium Chain Fatty Acids is… breast milk!
Breast milk is rich in Lauric acid, the same fatty acid found in coconut oil (source) – and it's there because, in addition to easily digestible nourishment, it provides immunity against infection.
Our bodies are believed to metabolize the Medium Chain Fatty Acids found in coconut oil (and breast milk) in such a way that the fats are used effectively. Research has shown that – unlike Long  Chain Fatty Acids – Medium Chain Fatty Acids are less likely to clog arteries or end up being deposited under the skin in those problem areas!
Furthermore, the Medium Chain Fatty Acids in coconut oil are believed to help with the body's absorption of vitamins and minerals from other foods.
And new studies have shown that they may play a role in the prevention of the development of diabetes.
Source:
The Use of Coconut Oil, a Healthy Medium-Chain Fatty Acid, as part of the FirstLine Therapy® Program
Using coconut oil in your baby food recipes
Coconut oil has a high melting point. This means that it's runny at temperatures above 76 degrees F – but at lower temperatures it's solid.
We actually see this in action here in the Bahamas… when we buy coconut oil in the nicely air-conditioned grocery store it's white and almost solid. But when we get it to our somewhat warmer (!) home, it melts and becomes runny!
Its unique composition stops it becoming rancid as quickly as other oils – some sources say it lasts for up to 2 years, but we've never tried keeping it that long! And it doesn't need refrigerating – in fact, putting it in the fridge will turn it rock hard!
With your doctor's consent,  you may begin using coconut oil when cooking for your baby from 6 months of age. It is NOT considered highly allergenic – although you should introduce it with a food that your baby is already safely enjoying, which will help you gauge if it does cause an allergic reaction or digestive problem.
Because it is stable at high temperatures, it's suitable for all types of cooking.
You can just use it in place of less healthy oils when cooking for your baby, or try using it instead of butter or margarine in baking.
Very pure coconut oil has a very light coconut taste and aroma, but not so significant that it alters the end taste of the dish.
More benefits…
Coconut oil is also great for use on the skin!
Try mixing it with baby's lotions to protect and nourish his skin.
Rub a little coconut oil on to baby's scalp to help remove cradle cap.
Apply to baby's bottom if he has diaper rash. Because of its consistency, it's easy to apply and melts into the skin, providing natural protection and healing.
Pure coconut oil is available at many leading grocery stores, ethnic stores, healthy food stores and online.
Learn more about using coconut in your baby food recipes