Today's easy baby food recipe makes an ideal dessert or breakfast for babies from 6 months of age. It's delicious served warm, especially as the days grow cooler.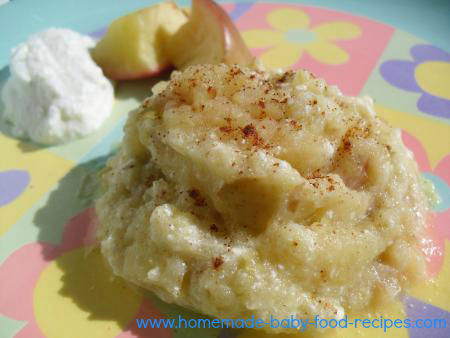 We LOVE the creaminess of the ricotta cheese this recipe calls for – ricotta cheese is an excellent source of calcium and we have successfully mixed it with all types of fruit purees when devising new ideas for our little ones!
This is a perfect recipe to make in the oven alongside the family meal – you just pop in the apple along with everything else that's cooking, saving you both time and energy. You can even cook several apples simultaneously and freeze the spares for future use! Who said making baby food has to be time consuming?
To Make Baby's Baked Apple and Ricotta Puree You Will Need…
1 apple*
1 cinnamon stick (or a good pinch of ground cinnamon)
1 tbsp ricotta cheese
*Choose a naturally sweet apple for this recipe, or the resulting puree may be too tart for your little one. Our suggestions would be Golden Delicious, Fuji, Gala, Pink Lady or Red Rome.
Preheat the oven to 350 deg F (180 deg C).
Wash the apple, then remove the core using an apple corer, a sharp knife, or a melon baller.
Pop a whole cinnamon stick into the hollow left by the core, or sprinkle with the ground cinnamon.
Wrap the apple in aluminium foil, sealing tightly, and place on a tray in the oven.
Cook for 30 to 45 mins, until the apple is very tender.
Cool to a safe handling temperature, then unwrap the apple and remove the cinnamon stick (if using).
Cut the apple into pieces and transfer to a food processor. (We leave the skin on, but if you want to remove it, do so at this point. This page will help you decide whether or not to leave the skin on).
Puree the apple (which is now infused with the cinnamon flavour) until smooth (we used the pulse function and kept ours ever-so-slightly textured).
Stir the ricotta into the pureed apple and serve immediately, topped with a little extra ground cinnamon if required.
Note: This dish is equally delicious made with pear instead!
Pin It