A nourishing and hearty lentil puree with the delicious flavours of apple and spices – this is a dish for your little one with a taste that more than makes up for its lack of visual appeal!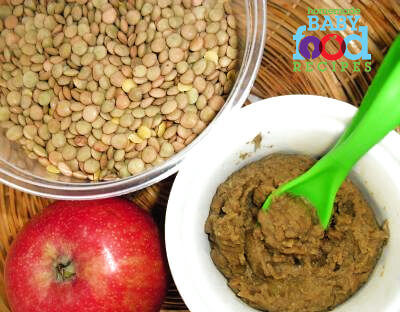 We're the first to admit that – unlike most baby food purees with bright colours that seem to advertise how healthy they are – this lentil puree looks a little drab!
But never judge a book by its cover… our little man wolfs this one down with glee, as do the rest of the family when we serve it as a dinner time side dish on a winter day!
In our recipe we used green lentils – these were all that was available on our little island this week and they worlked perfectly in the dish. However, you might prefer to make it with red lentils if you can get them – they cook more quickly (generally in about 20 mins) and may make the dish a little more aesthetically pleasing!
Whichever type of lentil you use, you can be sure you are providing your baby with the very best nutrition! Lentils are known as one of nature's 5 healthiest foods, because they are a fine source of protein, calcium and iron. Happily, they are also abundant and inexpensive!
You can find out more about introducing lentils here – and this section in particular addresses the common concern among parents… will lentils give my baby gas?
The following recipe is ideal from around 7 to 8 months…
To Make Baby's Lentil and Apple Puree You Will Need…
4 oz (1/2 cup) lentils
20 fl oz (2 1/2 cups) water
1 tbsp olive oil
3 to 4 tbsp onion, finely chopped
1 small apple, cored and diced (you may prefer not to peel – see this page for more information)
1 garlic clove, crushed
1 tsp ground cumin
1/2 tsp ground coriander
pinch cinnamon
Pour the water into a saucepan and add the lentils. Bring to the boil.
Lower the heat and simmer the lentils until cooked – they should be tender and breaking down. This takes around 25 to 35 mins.
Whilst the lentils are cooking, heat the oil in a small frying pan and saute the diced onion until tender.
Add the diced apple and crushed garlic to the onion, then stir in all the spices.
Cook for a few more minutes, until the apple is tender.
Tip the onion/apple mixture into the lentil pot and leave it to simmer for 5 more mins.
Cool briefly.
You now have two options….
You can either transfer the entire mixture to a blender and puree until smooth OR you can hold about 4 tbsp of the mixture back, blend the rest, then stir the un-blended lentils into the puree. This adds a little textural interest for older babies, but is still easy to eat!
Serve just as it is, or as a side dish to a meal. Another option is to serve it the way our little one prefers… with squares of toast that he can dip into the puree!
Leftovers will freeze well or can stay in the fridge for up to 48 hours.
More lentil baby food recipes
More apple baby food recipes
Pin It