We received a message yesterday from Stephanie in the US, asking which are the best types of apples and pears to use in baby food recipes. We thought this information might be useful to everyone, so here's our reply…
"The best apples for making baby food are those that are naturally sweet – this, of course, avoids the need for extra sweeteners in your recipes.
Some of the sweetest apples are
Red Delicious
Golden Delicious
Braeburn
Honeycrisp
Gala
Empire (great for applesauce as it tends to go a lovely shade of pink!)
Apples that are more tart in flavour – and that you may wish to avoid in the early stages – include
Granny Smith
Pippin
McIntosh
Russet
JonaGold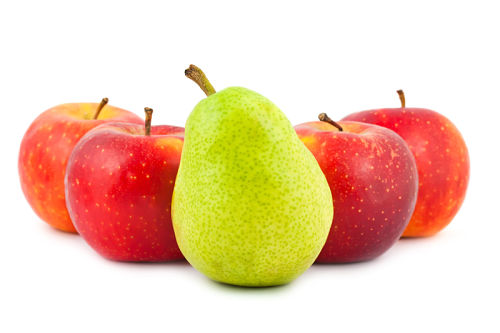 There are various factors to think about when deciding whether or not to peel apples for use in your baby food recipes (see this page for more information) – if you DO choose to leave the skin on, however, you should buy organic apples in order to avoid the pesticide residues that accumulate in the skin of non-organic produce.
Something else that you should consider if you will be using unpeeled apples is that the skin of Red Delicious apples may sometimes be quite tough and bitter – our babies didn't like it at all!
See our Apple Baby Food Recipes here
As for pears – again, organic is best (for the reasons given above). All pears are sweet (which makes them so very appealing to babies!) but our personal favourites for baby food are Comice and Anjou pears. Both are deliciously sweet and juicy, with a smooth texture that purees nicely even if the fruit is uncooked . Bosc pears are good too, although the texture is a little firmer – and Bartlett pears are another tasty option!
Just remember that pears need to be ripe in order for their sweetness to be fully developed and for a pleasing, soft texture."
See our Pear Baby Food Recipes here
Which are YOUR baby's favourite types of apples and pears? Are there any varieties that he just doesn't like?
Please leave your comments below!
Pin It