Today we have a very simple recipe idea for you that's really just a twist on 'cheese on toast' – but a very nutritious and tasty twist!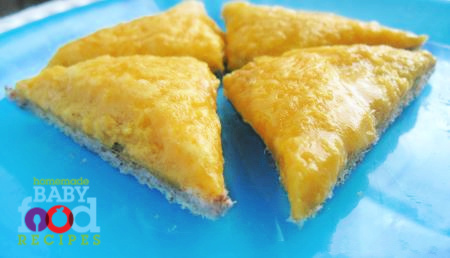 When we lived in the UK, calcium packed cheese on toast (as opposed to the US version, the grilled cheese sandwich) was something of a go-to snack, and all our little ones loved it!
The only problem with it was that – as the cheese cooled – it tended to firm up and sometimes go 'rubbery'. This would make it difficult for younger babies to manage.
Our solution was to include an egg in the cheesy topping!
The following recipe provides a slightly fluffy topping and wonderful flavour, with all the added nutrients of the egg, including omega 3 fatty acids, folate and vitamin D (not sure about introducing eggs to your baby? Please see this page for more information).
The simplicity of its preparation makes this a recipe you'll turn to often for breakfast or lunch. It's ideal for babies coping well with finger foods and will be a big hit with older siblings… and mummy and daddy too!
To Make Homemade Cheesy Eggy Triangles for Baby You Will Need…

2 slices of whole wheat bread (want to make your own? Here's how!)
4 heaped tbsp cheddar cheese (learn more about introducing cheese)
1 egg
Separate the egg yolk from the white by cracking the egg, then tipping the egg yolk back and forth between the two shell halves, allowing the white to drain into a bowl.
In a small bowl, stir the egg yolk into the cheese.
In another small bowl, whisk the egg white until its fluffy and forming soft peaks (this takes a few minutes of vigorous whisking!).
Gently fold the whisked egg white into the cheese mixture – your goal is to keep it as fluffy as possible, so do this part carefully.
Place the bread under the grill/broiler and toast on one side until golden.
Remove from the grill and turn each slice over. Spoon the egg and cheese mixture over the un-toasted side.
Return to the grill/broiler and cook until golden.
Cool briefly and remove the crusts with a sharp knife, then cut into triangles.
Serve once its cooled to a safe handling temperature.
This is the basic recipe, which is yummy just as it is. But there are ways you can add a little more 'pizzaz' (and nutrition)…
When you remove the bread from the grill and turn it over, spread it with baby's favourite veggie puree before adding the egg/cheese mixture.
Add chopped, cooked vegetables to the egg/cheese mixture before spooning it on to the bread.
Stir fresh, chopped herbs into the egg/cheese mixture, or sprinkle the finished dish with a touch of paprika… yummy!
Try more of our tasty infant finger food recipes
Pin It