This baby food recipe for pureed butternut squash with roasted apple is every bit as delicious as it sounds! Once you've prepared the ingredients, there's very little to do except put it all in the oven and wait for the wonderful flavours to develop – it tastes so good we often use this as a side dish to accompany the main family meal.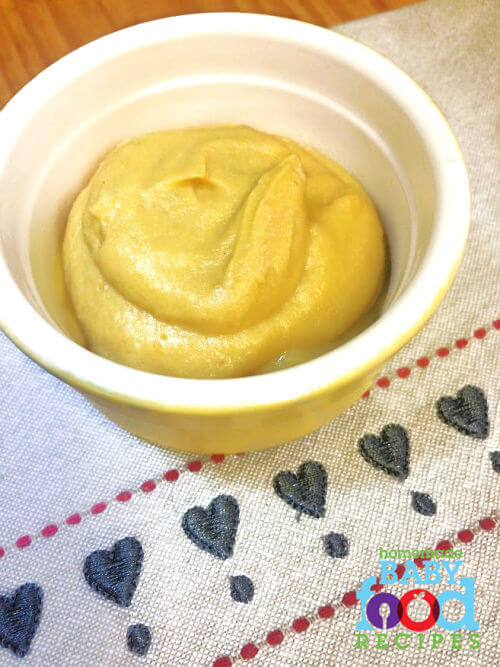 Freeze any leftovers into baby sized portions and save them for another day (NOTE: you should NOT freeze the leftovers if you used previously frozen breast milk in this recipe).
To make Baby's Puree of Roasted Butternut Squash and Apple you will need…
1 cup butternut squash, peeled and cut into cubes
1 apple (we used Fuji), cored and cut into chunks*
2-4 fl oz (1/4 to 1/2 cup) milk, warmed – use breast milk or formula if you prefer
little piece of fresh ginger, grated
little olive oil
*We didn't peel our apple, as it still purees beautifully when cooked with the skin. Not sure whether to cook your fruits and veggies with or without peeling them? See this page for advice!
Preheat the oven to 375 deg F (190 deg C).
Toss the squash cubes in a little olive oil.
Grease a baking sheet and place the squash on the sheet, then place into the oven and cook for 15 minutes.
Toss the apple wedges with a little olive oil, remove the baking sheet from the oven and spread the apple wedges out with the squash.
Cook for a further 30 mins, until the apple and squash are very soft.
Cool briefly, then transfer to a food processor.
Add the ginger and some of the milk, then puree thoroughly, adding more milk to achieve the consistency your baby will enjoy.
Serve to your tiny diner!
Find more recipes containing…