Brown rice is a highly nutritious food that we thoroughly recommend including in your baby's diet (AND your own if you've only eaten white rice up to now!).
But if it takes your little one (or you)  some time to begin to appreciate the unique 'nuttiness' of plain brown rice, then we have good news for you – it's actually very easy to transform the flavor of brown rice into something totally new!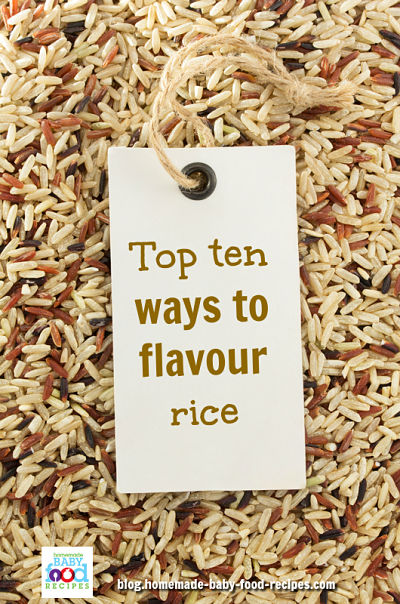 Here are our top ten ways to flavor rice
Replace the cooking water with coconut water
Replace half the cooking water with apple juice
Replace half the cooking water with tomato juice
Add turmeric to the cooking water (a pinch for every 1/4 cup of dry rice). Adds flavor and a vibrant yellow color!
Add a cinnamon stick to the cooking water. Gives a delicious flavor and a subtle pink color!
Stir a pinch of nutmeg into cooked rice
Stir a generous amount of chopped, fresh parsley into cooked rice
Combine cooked rice with finely chopped, sauted vegetables
Top cooked rice with grated Parmesan cheese and stir well!
See our brown rice baby food recipes here
Do you have any interesting ways of adding new flavor to rice? Please share your ideas!
Pin It