At the end of last week we received an interesting question from Meredith in Fort Lauderdale, Florida.
After reading on your website about the health benefits of avocado, I decided to offer it to my son Josh as his first food. When I went to the store, I found something called a SlimCado, which looked like an avocado – but the label said it had less fat than other avocados. I'd like to try one, because Josh will only eat a little and I'll probably end up eating the rest… but I'm worried that it may have been genetically modified in some way. If not, how can it contain less fat? And is this something I should be feeding to my baby?
By sheer coincidence, the SlimCado has just made an appearance at the store on our little island, so it's something we've been taking a closer look at, too!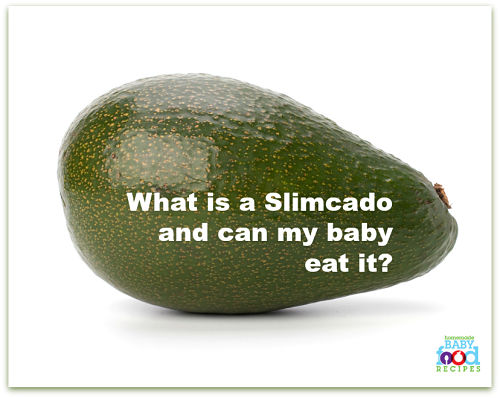 In order to answer Meredith's question as accurately as possible, we wrote to Brooks Tropicals', who supply a range of tropical fruits and vegetables across North America. We immediately received a very helpful reply from Mary Ostlund, the company's Marketing Director, who told us
SlimCados are green skinned Florida avocados which have grown down here since the turn of the century (18th to 19th that is). Brooks Tropicals has sold them since 1928.

They are not genetically engineered. They are different varieties than the hass. If you think about it, the hass is grown in very dry environments, California for example. Florida is anything but dry. The avocados are going to be different. SlimCados are generally much larger and have a lighter taste.

The first time I had a hass avocado (in my thirties) I thought it tasted oily. I'm told the first time someone tries a Florida green skinned avocado it tastes watery. 'Oily' and 'watery' are two awful ways to describe great tasting avocados, but the words help to highlight the difference in taste.

Guacamole is made even more outstanding with hass avocados. Meanwhile SlimCado aficionados slice them on top of salads, sandwiches, and even burgers. Latinos love to dice them up to top a creamy soup. With SlimCados you don't have to think twice about having avocados.

SlimCados were on the menu when I was a baby. I'm sure your readers' babies will enjoy them too.

I should note that avocados, in general, have gotten great PR this last year with their fat being considered the 'good' fat (monounsaturated). We should remember that even good fat should be eaten in moderation. Doctors suggest up to 70 calories a day. You can almost triple the amount of avocado you can eat with the SlimCado and still stay within this dietary requirement.
Mary also gave us a little nugget of helpful information for identifying whether or not the food you're buying has been genetically modified…
An easy way to tell if a fruit or vegetable is genetically engineered is to look at the label. GE fruit's label have a number on it (not the bar code but the other number) that starts with '8'.
Of course, the fat requirement for babies is somewhat different than for older children and adults. 'Good' fats – such as those present in avocados and oily fish – play an important part in the development of baby's brain. And whilst adults may be encouraged to avoid whole milk and dairy products such as yogurt which are made with whole milk, this restriction does not apply to children under 2 years of age. This is because the extra energy the fats provide is needed to support their massive rate of growth.
There are also occasions where avocados are recommended for babies specifically because of their high calorie content (if baby has reflux, for example). In these situations, it's important that the small quantities of food that baby is able to consume and keep down are calorie-rich.
We gave the SlimCado a try for ourselves over the weekend and both the taste and the texture are unmistakably lighter then the Hass. However, mixed into a dressed salad it was very pleasant – and we all agreed that it wasn't easy to tell the difference!
We'll be sticking with the 'full fat' version of the avocado for feeding the youngest members of our family, in part because they love the creamier texture and fuller flavour but also because of the benefits they are receiving from the fats at this stage.
But we think the SlimCado is a good option for the adults, for whom the consumption of fats – even good ones- needs keeping in check!
Have you tried a SlimCado yet? How do you think it stacks up against a 'regular' avocado in terms of flavour and texture?
Useful links from our site…
Avocado baby food recipes and tips
Why babies need whole milk and fats
Pin It