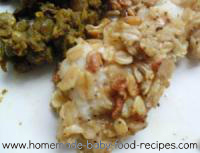 Today we have a recipe for you that makes a great finger food for older babies coping well with texture – and makes a delicious meal for mummy and daddy too!
It's also perfect for those doing baby led weaning.
This dish is a family favourite in our household. Not only is it packed with nutrients (whole grain oatmeal, protein- and calcium-rich lentils, mineral-rich fish etc etc!) it's also EASY to make and tastes absolutely wonderful.
If you can't get hold of haddock, you can use another white fish (cod, pollock, grouper, mahi mahi… we've made this with whatever white fish we've had available, with equally yummy results!).
To Make Baby's Oatmeal Crusted Haddock with Dhal You Will Need…
For the dahl…
1/4 cup lentils*
olive oil
1/2 small onion, chopped
1/2 tsp grated fresh ginger
1 garlic clove, crushed
1 to 1 1/2 cups water
1/4 tsp cinnamon
1/4 tsp turmeric
1/4 tsp ground coriander
*We sometimes use red lentils to make dhal because they go very mushy – but for this recipe we used brown. They don't break down as much and have a little more texture – our little ones enjoy picking them up and eating them individually once they've developed their 'pincer grip'!
Heat a little oil in a small saucepan and gently cook the onion for 3 minutes, then add the garlic and ginger.
Cook for 3 minutes more.
Add the spices and cook, stirring, for 2 minutes.
Pour in 3/4 cup of the water and add the lentils.
Bring to the boil, then reduce to a simmer. Cover.
Cook gently for around 30 to 45 minutes, until the lentils are tender. Check the pot often and add more of the water if the mixture appears too dry.
Whilst the lentils are cooking, prepare the fish…
For the fish…
1 white fish fillet (check carefully for bones)
1/2 cup rolled oats*
1/4 cup milk (use whole milk, breast milk or formula)
2 tsp melted unsalted butter or olive oil
big pinch garlic powder
big pinch thyme
freshly ground black pepper
*We use old-fashioned oats for this recipe and we don't recommend that you try quick oats or instant oats. You may well end up with a 'mush' instead of a crispy coating!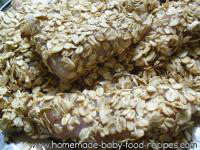 Preheat the oven to 450 deg F (220 deg C).
Mix the oats with the garlic powder, thyme and black pepper. You can, of course, leave the seasonings out if you prefer, or change them to something your baby prefers.
Cut the fish into strips (around 1 inch wide) and dip in the milk.
Roll the fish strips in the oats until coated, then place on a greased baking tray.
Drizzle with the melted butter or oil (or you can spray with olive oil).
Bake for around 10 minutes until golden.
Serve everything together and let baby dig in.
We hope you enjoy this feast of flavours as much as we do!
More articles you'll enjoy…
Lentil Baby Food Recipes
Fish Baby Food Recipes
A Guide to Baby Finger Foods
Baby Led Weaning
A Sweet or Savoury Spice, For Baby Food That's Twice as Nice
Make Nicely Spicy Baby Food with Cinnamon
Why Turmeric Is One of The Best Spices You Can Give Your Baby