Today's recipes uses just 3 ingredients to produce tasty, easy-to-eat little muffins your baby will love.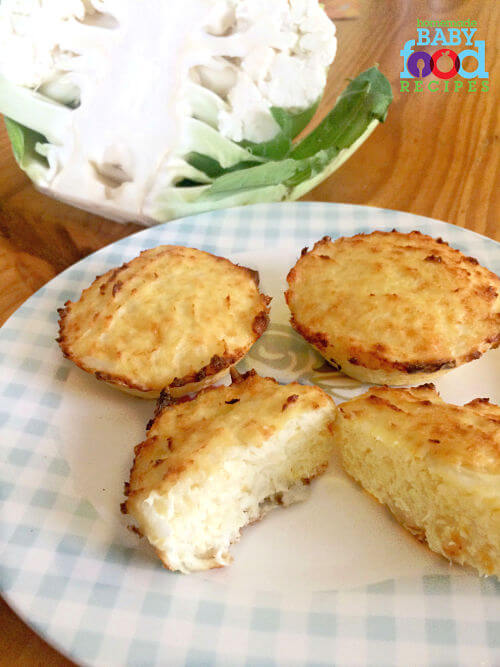 Although they may look like them, these aren't muffins in the traditional sense – they contain no flour and the texture is very light and fluffy.
This makes them ideal for
babies who need to avoid gluten or wheat

babies who are new to finger foods (and find the texture of regular muffins a little too crumbly)
This recipe produces 4 muffins. Serve them just as they are – they make a great little breakfast!
Alternatively, top them with whatever your baby likes best (they're fab with cream cheese!).
Or do what our kids do and try dipping them in soup. Yum!
To Make Cauliflower Muffins for Baby You Will Need…
1/2 head of cauliflower (to give you an idea, our half weighed around 14 oz / 395g)
1 egg, beaten
1/2 cup grated Cheddar cheese
Method:
1. Cut the cauliflower into florets then steam for around 5 to 7 minutes, until tender.
(If you prefer, you can add the florets to boiling water instead and simmer for a few minutes until tender).
2. Transfer the cooked cauliflower to a food processor and allow to cool slightly. Then process until very finely chopped, ideally just before it starts to resemble a puree.
3. Here comes the interesting part – you need to remove the moisture from the cauliflower (and prepare to be amazed by just how much water it actually contains!).
The easiest way to do this is to spoon the cauliflower into the middle of a piece of cheesecloth (or try a nut milk bag – perfect for the job!).
Then literally wring it out!
4. Once you've squeezed out all the water you can, set the oven to 425 deg F (220 deg C). Put the cauliflower into a bowl with the egg and cheese and stir it all together.
The mixture will be quite thick.
5. Grease 4 holes in a muffin tin (or use 4 silicone muffin cases) and spoon in the mixture. Flatten on top.
6. Bake for 20 to 25 mins until deliciously golden brown on top!
7. Cool to a safe handling temperature and serve.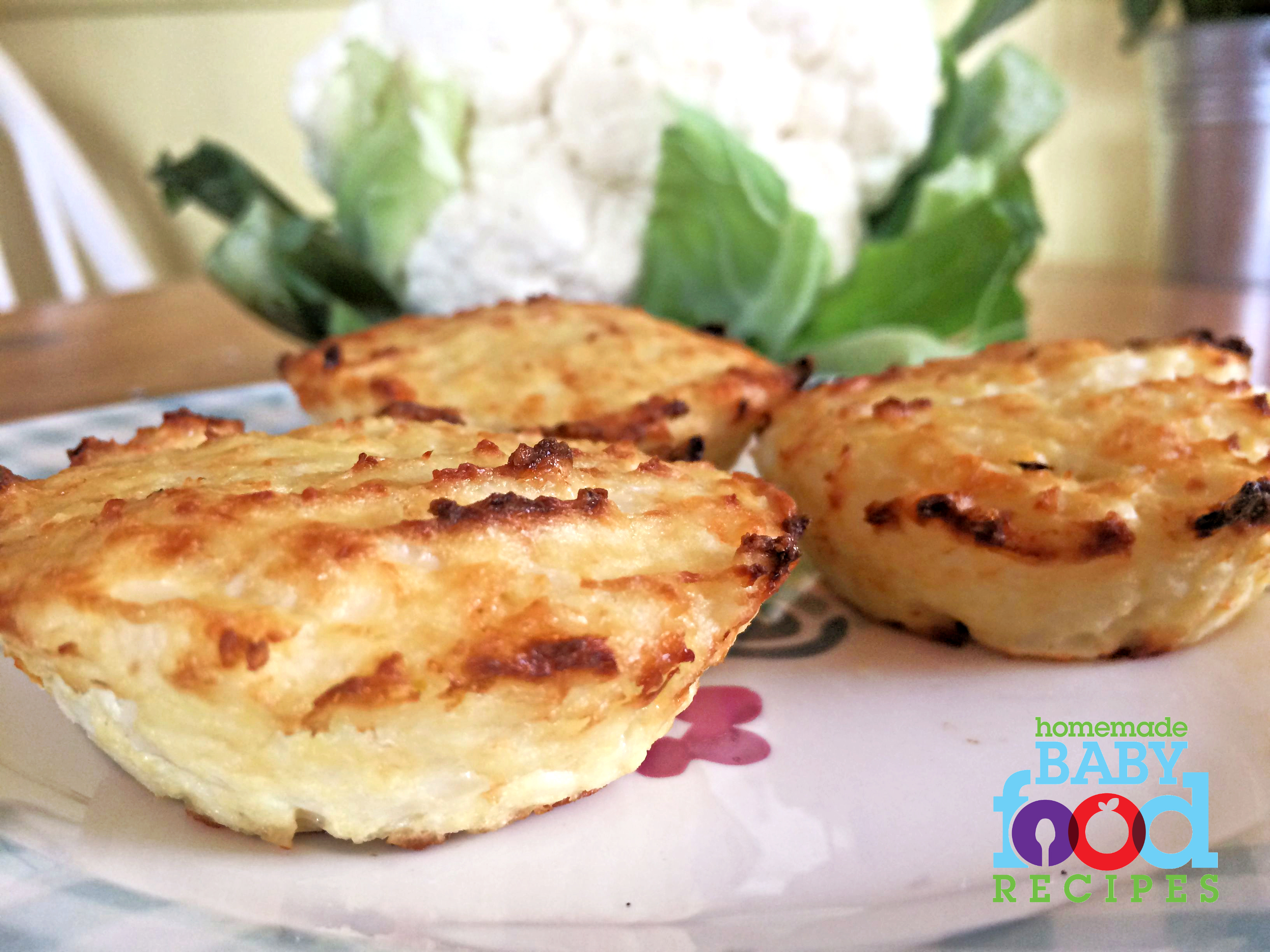 If your baby is adventurous in his tastes, you can easily give these muffins a little 'pizazz' by adding garlic powder and/or herbs to the mixture.
Time-saving tips
The most labour intensive part of this recipe is the preparation of the cauliflower. For that reason, we sometimes cook a big batch of cauliflower in advance. Once we have chopped it in the food processor, we take out what we need for one batch and freeze the rest.
If you do this, then the next time you want to make these muffins, you can just thaw what you need and start on the 3rd step of the recipe.
Another time-saving option is to use frozen cauliflower instead of fresh (yes, it's just as healthy – more info here).
This will save you having to cut/cook the cauliflower. You can simply thaw it and put it straight in the food processor.
We hope your baby enjoys these cauliflower muffins – please do leave a comment and let us know!
Learn more about giving your baby…