Today's recipe is the perfect winter warmer!
Pumpkin oatmeal (or porridge, depending on where you're visiting us from) is very quick and easy to make, yet it's simply packed with flavour.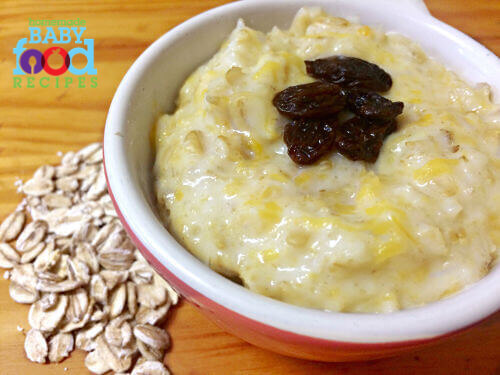 The lovely aromas it produces as it cooks are irresistible. In fact, you will probably have more than just your baby waiting for a taste – so be sure to make more than you need.
Ideal from around 6 months of age, this dish can be served slightly 'lumpy' (as pictured), or you can puree it to a completely smooth texture.
Tips
The sweetness in this recipe comes from the banana and raisins (if using).
If you wish to make it a little sweeter, try stirring in Maple syrup. Alternatively, soak a few extra raisins, then puree them and stir them in.
For a tasty variation, try adding a little chopped apple or pear to the cooking pot. Delicious!
To Make Pumpkin Oatmeal Baby Food You Will Need…
1/2 cup rolled oats
1/2 cup water
1/2 cup milk (use whole milk, formula or breast milk)
1/4 cup cooked pumpkin (diced) or pumpkin puree
1/2 very ripe banana, mashed
1 tsp ground flax seeds (optional)
couple of drops of vanilla extract
pinch each of: cinnamon, ground ginger, nutmeg, ground cloves
teaspoon raisins
Start by placing the raisins in a small bowl of boiling water to soften them.
Combine the all the other ingredients (except for the raisins and banana) in a small saucepan and bring to the boil.
Immediately lower the heat, then simmer for 5 mins. Stir in the mashed banana, then simmer for a few more minutes.
Pour into baby's serving bowl and top with a few softened raisins – or puree the raisins and stir into the dish to add sweetness.
We hope your little one enjoys this warming treat!
From our site…
Everything you need to know about introducing oats – plus MORE great recipes