Calcium is an important nutrient throughout life – but particularly so in infancy. It helps with the healthy development and growth of your baby's bones and teeth – and less well known is the fact that it is used by lots of other parts of the body, including the muscles and the heart.
Fortunately, breast milk or formula provide plenty of calcium for most of your baby's first year. But – as solids begin to take over as his main source of nutrition – it's important to make sure that you include lots of calcium rich foods in his diet.
So which are the best sources of calcium for your little one?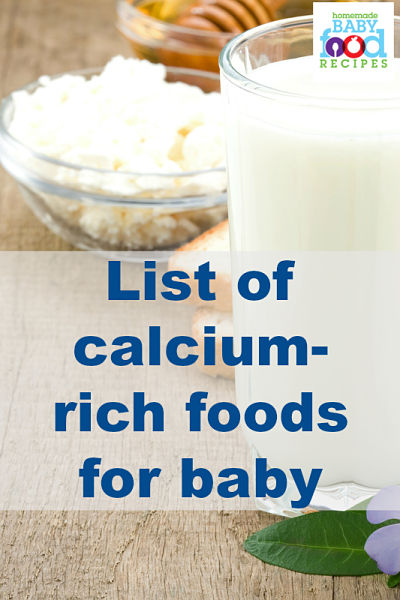 List of calcium rich foods
Yogurt – a great food for babies! the calcium in yogurt is easily absorbed and it's easy to make yogurt a regular part of your baby's diet. It can be used in all sorts of recipes – both savoury and sweet – or simply served as it is! Beware some of the commercially made fruit yogurts – despite their healthy image, they're often high in sugar. Instead, use natural, plain yogurt or consider making your own – it's MUCH easier than you might think!

Milk, of course, continues to be a good source of calcium for your baby. Once he's moved on to cow's milk (12 months+), ensure that the milk you give him is 'whole milk' (or 'full cream' milk in Europe).
Find out why babies need whole milk and fats

Soy milk – the calcium levels of soy milk vary from one brand to another, so use the labels to make comparisons

Blackstrap molasses – a good alternative to refined sugar, blackstrap molasses is not just rich in calcium. It's also a great source of iron and important minerals. Try to find 'unsulphured' varieties, as some babies may react to blackstrap molasses produced using sulphur.

Cheese – cheese can be easily incorporated into lots of your baby's meals. In fact, a sprinkle of cheese can make cooked veggies seem more appealing to a baby who may otherwise refuse them.
Learn more about introducing cheese to your baby

Lentils – packed with protein and iron, lentils are a great nutritional 'all-rounder'! You can learn how to prepare lentils for your baby here – we even have some tips for avoiding the gas that lentils are infamous for!

Black eyed peas

Sardines – delicious mashed and served on toast!
Discover 5 more ways to serve sardines to baby

Canned salmon

Kale

Broccoli – read more about how to make this superfood a regular part of your baby's diet

Okra – learn more about how you can incorporate this weird and wonderful veggie into your baby food recipes.

Cottage cheese – our little ones have always LOVED cottage cheese mixed with their favourite fruit puree – and it takes only a moment to prepare!

Summer and winter squash – why not try some of our butternut squash baby food recipes?

Oranges (12 months+) and calcium fortified orange juice

Pinto beans

Calcium fortified cereal

Chickpeas/garbanzo beans – try serving them as a finger food!

Prunes (also known as dried plums)

Swede/rutabaga – we think this earthy vegetable is woefully neglected as a food for little people! So you'll find a couple of  swede baby food recipes here to help get you started!

Amaranth – a highly nutritious grain, amaranth is slowly becoming more widely available as its health benefits become better known. Read more about amaranth – and other nutritious grains – here.

Watercress

Parsley – you can chop a little parsley and add it to lots of your baby food recipes for a welcome boost of flavour WITHOUT salt – and some extra calcium, too!

Tofu processed with calcium sulphate – look for the firm variety, which is a better source of calcium than the soft.
Read more on our site about your baby's calcium requirements
Sources:
Office of Dietary Supplements – Calcium
Calcium in the Vegan Diet
The Healthy Choice – Calcium
Pin It