Your amazing baby grows at a tremendous rate during his first year. That incredible growth also applies to his brain, which makes millions of new connections as he responds to the world around him.
As parents, we help with the development of our little ones' brains by providing plenty of stimulation and exposing them to new experiences – but did you know we can also help by providing a diet rich in the nutrients that encourage brain development?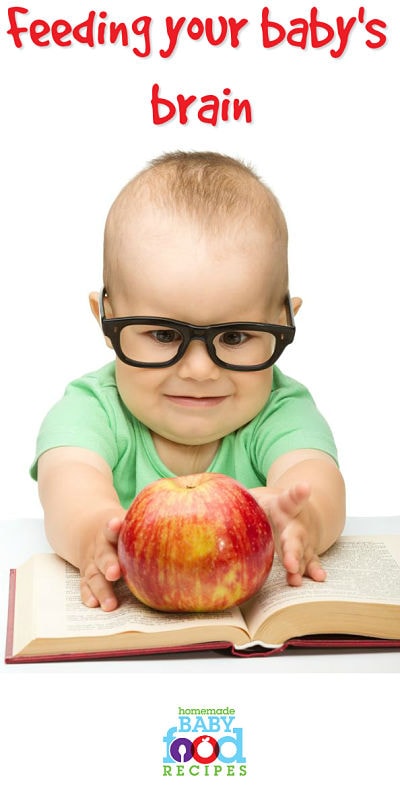 You've probably heard that whole milk and fats are important elements in our babies' diets. One of the reasons for this is that a whopping 60% of the human brain is made up of fat, so fat from the diet is crucial to support its development.
You may also have heard of DHA – docosahexaenoic acid. It's the most abundant fatty acid in the brain and is passed to your baby via your breast milk (it's also added to many infant formulas). As your baby begins to make the transition to solid food, then it's important to incorporate dietary sources of DHA into his menu.
Your little one also requires protein, vitamins C, B12 & B6, iron, and complex carbohydrates (such as grains and cereal), which are all crucial to the healthy development and function of his brain.
Here's a handy list of all the foods which are considered to be 'baby brain foods'… those that contribute the most to brain development!
legumes
soybeans
potatoes (particularly sweet potatoes)
milk
green leafy vegetables
fish (salmon, tuna and sardines are great sources of DHA, although it is important to speak to your doctor about the guidelines for introducing these types of fish in your area)
oranges (1 year+)
Source:
Dietary Sources of Omega 3 Fatty Acids
The recipe for a brainy baby!
Here's a simple recipe that combines many elements from the list of 'baby brain foods' into a tasty dish your little one will love!
You will need…
1 salmon steak
1/2 lb white potatoes
1 small sweet potato
handful of broccoli florets
1 tbsp unsalted butter
2 tbsp milk (use breast milk, formula or whole milk)
2 oz (1/2 cup) grated Cheddar cheese
Peel the white potatoes and sweet potato and cut into dice.
Steam the potatoes and broccoli until tender
OR
combine the potatoes in a saucepan, just cover with water, simmer for 10 minutes, then add the broccoli and continue to simmer until all the vegetables are tender.
Whilst the veggies are cooking, cook the salmon. We prefer to do this by dotting it with a little butter, wrapping it in foil and baking it in an oven pre-heated to 375 deg F (180 deg C) for 10-15 mins. However, you can also poach the salmon in water or milk, or cook it under the grill (broiler) for approximately 3 to 5 mins each side, until cooked through.
NOTE: Please check the fish for bones both before and after cooking. We like to leave the skin on the salmon as it helps the fish retain those nutritious oils, but you can remove it if you wish!
Drain the vegetables (if necessary) and combine all the ingredients in a bowl. Mash thoroughly with the butter, cheese and milk and use the juices leftover from cooking the fish to thin (if needed).
Serve to your little Einstein!