Once your baby is comfortably feeding himself and can bite and chew, then a simple, healthy sandwich makes just as convenient a lunch-time food for him as it does for you!
The only problem is… you may be stumped for ideas as to just WHAT to put in your baby's sandwiches!
After all, typical deli meats (which are often high in salt and sometimes contain milk ingredients) are not ideal for baby – neither are other kiddie favourites like sugary jams/jellies or peanut butter!
So today, we have seven simple ideas for sandwich fillings for your baby – helping you prepare the perfect quick and easy (yet nutritious) lunch!
NOTE:
Always use whole grain bread to make sandwiches for your baby.
What's So Bad About White Bread?
You may want to remove the crusts from sandwiches you offer your baby – some infants struggle with the crusts if they have no (or few) teeth. Even WITH teeth, some babies refuse to eat the crusts. Our little man – now 14 months and equipped with a full set of gnashers – eats his sandwiches down to the crusts, then tosses the crusts on the floor… a little habit that exasperates us but pleases our dog no end!
If you want to make your sandwiches look REALLY pretty, seal the edges and remove the crusts all in one go, then try these Fun Sandwich and Bread Cutter Shapes for kids from Amazon which do it all for you!
The bread you use for your baby's sandwiches can be either toasted or untoasted, depending on your little one's preferences or abilities. Either way, it's a good idea to press firmly on the sandwich with the palm of your hand before cutting it. This will compress it and – hopefully – make it a little less tempting for your baby to pull apart the second you give it to him!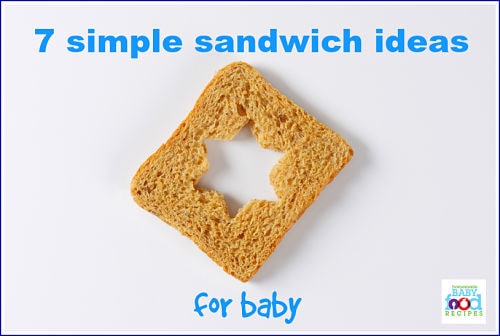 Seven Simple Sandwich Ideas For Baby
Banana – what could be easier? Just lightly mash a ripe banana, spread on bread, squash another slice of bread firmly on top and cut into four. Simple, nutritious and yummy!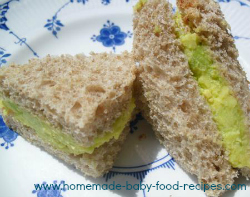 Egg yolk and avocado – packed with nutrients, this creamy and delicious sandwich filling is ready in seconds. Just mash one cooked egg yolk (warm or cooled) with ripe avocado.
Canned fish, avocado and yogurt – this is a big favourite in our house and a great source of calcium and essential fatty acids. Use tuna, salmon or sardines (preferably – in the case of salmon and sardines – WITH their bones and skin) and mash thoroughly with ripe avocado and a little unflavoured, whole milk yogurt (here's how to make your own).
Veggies and cream cheese – simply take one of your portions of pureed vegetables (something like butternut squash or carrot has the ideal texture – thinner purees like zucchini tend to be too watery) and blend with cream cheese. Mmm!
Please do tell us what sandwich fillings YOUR baby enjoys!
More ideas for finger food for baby