We've only recently started cooking with buckwheat, but now we're wondering why we've waited so long!
Buckwheat – which is known as kasha when roasted – is a highly versatile ingredient. It cooks quickly and lends itself well to both savoury and sweet dishes (like this one).
Buckwheat is actually a fruit seed, even though it is often (wrongly!) described as a grain. And despite its name, it's not related to wheat whatsoever. In fact, it's gluten-free, making it ideal for babies with a wheat allergy or Celiac disease.
Another reason it's perfect for baby food is the texture. Cooked buckwheat purees well with a little added liquid, or you can serve it just as it is, with soft little lumps.
And if all of that wasn't enough, buckwheat is extremely healthy! In addition to a range of vitamins and minerals, it's a good source of high-quality protein.
That means that it contains all of the eight amino acids that your baby's body needs.
Planning ahead
We like to cook a batch of buckwheat ahead of time, then divide it for use in different recipes.
The good news is that it freezes well, so it's easy to store lots of separate portions to transform into savoury or sweet meals for your baby.
To cook buckwheat…
Rinse half a cup of buckwheat thoroughly in cold water.

Meanwhile, bring 2 cups of water to the boil in a saucepan.

Add the buckwheat, stir well, then lower the heat and cover.

Simmer for 20 minutes. By this time, the buckwheat should be nice and tender and will have absorbed all of the water. If there is any liquid still in the pan, just leave the lid on and let it sit for 10 minutes.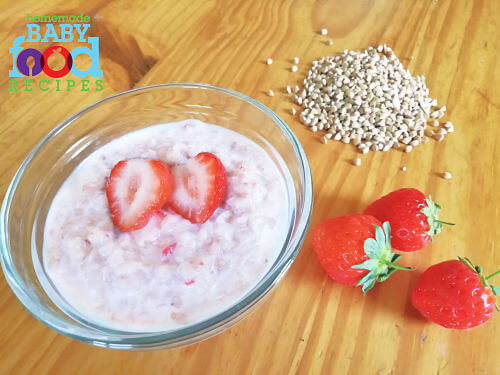 This sugar-free dish makes a fantastic breakfast and is super-simple to prepare. You could also serve it as a healthy, sugar-free dessert!
To Make Strawberry Buckwheat For Baby You Will Need…
1/2 cup cooked buckwheat
1/4 cup warm milk (cow's milk, formula or breast milk)
3 strawberries, chopped finely
1/4 very ripe banana*
*The banana in this recipe provides sweetness to the dish, so it's important that it's nice and ripe.
Mash the banana thoroughly, then stir in the warm milk and the chopped strawberries.
Stir the banana mixture into the cooked buckwheat and serve.
Tips
This dish is best prepared and served as needed, as it tends to discolour a little if stored.
If your baby is allergic to strawberries, try serving this dish with blueberries instead. It's also great with peaches, cherries and plums.